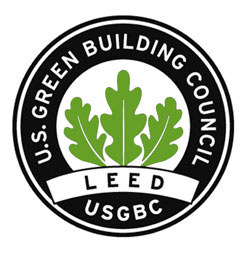 When it comes to making their distribution centers more Earth-friendly, many merchants are willing to adopt green practices. But a few have gone all the way to ensure that their facilities are LEED-certified through the U.S. Green Building Council.
The intent of LEED — Leadership in Energy and Environmental Design — certification is to provide building owners and operators a framework for identifying and implementing practical and measurable green building design, construction, operations and maintenance solutions. It includes performance in metrics such as energy savings, water efficiency, CO2 emissions reduction, improved indoor environmental quality, and stewardship of resources and sensitivity to their impacts.
Bill Kuipers, a partner in multichannel operations management Spaide, Kuipers & Co., says the merchants he talks with all love the notion of LEED-certified warehouses. But the expense involved in getting the official green thumbs up can be daunting.
"Full-blown LEED certification requires not just things like skylights, glass panes and low current, high-efficiency lighting, but the use of biodiesel in the equipment used to construct the building," Kuipers says.
So who's leading the way in LEED-certified DCs? Not surprisingly, merchants who target customers interested in spending time outdoors have made green operations a priority.
For instance, Patagonia constructed its Reno, NV, service center for $19 million in 1996 as a green building. But the outdoor gear and apparel merchant had gold-level LEED certification in mind when it spent $17 million on a 171,000-sq.-ft. expansion of the facility in 2006.
The company's annual report notes that all of Patagonia's electrical energy is supplied by renewable power; the improved energy performance has saved 47% in energy costs. The merchant also recycled 93% of construction waste during the remodel, and 95% of all in-house waste is recycled.
Outdoor gear co-op retailer Recreational Equipment Inc. (REI) built a 525,000-sq.-ft. facility three years ago in Bedford, PA. The distribution center became LEED-silver certified in 2008.
The merchant's website explains that it installed more than 360 windows and skylights to allow natural daylight throughout the building. This helped REI reduce its energy use by more than 33%, and positioned the building to take advantage of sun and wind direction during warm summer months and icy winter months.
REI also reduced water use with native landscaping that does not require irrigation, and by installing dual-flush toilets, low-flow sinks and showers, and waterless urinals.
Hanesbrands DC sets a green record
Apparel manufacturer/marketer Hanesbrands opened its 1.3 million-sq.-ft. distribution center in Perris, CA, in January 2009 and received LEED certification this past February. It is the largest single free-standing LEED New Construction certified warehouse/distribution building in the world.
The building's energy usage is 19% lower than for a typical warehouse of its size — a result of extensive natural skylighting, motion-detection lighting, roof insulation, and an HVAC system that uses chilled water and hot water to create a comfortable working environment.
The company has reduced its water usage by nearly 40% through low-water toilet fixtures and low-water landscaping. Hanesbrands' center is also using catchment basins to maximize storm-water retention and minimize water discharge into the sewer system.
"Building and operating the Perris distribution center to Green Building Council standards was an easy decision," says Lee Woodard, Hanesbrands vice president of global logistics. "As a company we already get more than 15% of our energy from renewable sources, and have plans to double that in five years."
Another bonus for Hanesbrands: California gives businesses a $1.50/watt rebate for use of wind power and, depending on the fuel used, from $2.50/W to $4.50/W for fuel cell usage. The state is also big on solar initiatives. Commercial and multifamily residential systems that replace natural gas with solar heat receive a $500,000 rebate, and if they replace electrical systems, $250,000.
States sweeten the green deal
Indeed, many corporate green efforts are "mostly driven by tax incentives," Kuipers says. "Businesses want to do what's good, especially if there's a cost benefit."
When health and wellness products seller Vitacost.com opened its 155,000-sq.-ft. distribution center in Las Vegas in April, it didn't get any tax incentives for green building initiatives. But it did receive a rebate from the state's power utility company, NV Power, for installing energy-efficient lighting, says Vitacost spokesperson Kathleen Reed.
Reed did not disclose how much it spent on the low-current, high-efficiency lighting, which was installed throughout the leased building along with occupancy sensors. But NV Power offers rebates from $9 to $22 per compact fluorescent light fixtures installed, and from $12 to $30 per occupancy sensor.
In addition to the monetary incentives and ultimate savings in energy costs, another benefit to a LEED-certified DC is that several major companies are now seeking green partners.
Doug Armbruster, vice president of leasing at building design and management firm Industrial Developments International, says big-box merchants such as Walmart are trying to show their green side, too. Such retailers have been giving their business to companies that can prove they are environmentally friendly.
"Many companies that tour our buildings want to know if it is LEED certified or has the potential to be," Armbruster says. "They want to green the supply chain any way they can."
HAYNEEDLE.COM GOES WITH ALREADY-GREEN DC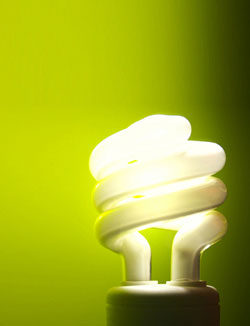 Hayneedle.com, which sells products such as rain barrels and compost bins, in May moved into an Earth-friendly distribution center. How green is it? Industrial Developments International built the Monroe, OH, facility on spec with the intention of submitting it for LEED certification.
Tom Clement, Hayneedle's director of logistics and distribution strategy, says the final building selection was ultimately based on its ability to accommodate expansion; gross lease and utilities costs; proximity to quality labor and logistics infrastructure; and building features. "I treated the potential LEED certification in this specific building as a nice-to-have, though at least one element — natural lighting from glass block inserts placed in unused dock door cutouts — was one of the stand-out features I saw among the 13 facilities I originally toured," Clement says.
In addition to the natural lighting, Hayneedle's new DC boasts low-emitting adhesives, sealants and coatings, early suppression, fast response sprinklers, and motion-sensor fluorescent lighting. "I can't yet validate the energy savings — we are too new to the building," Clement says. But he adds that Hayneedle's DC employees are delighted with their new green environment. — TP