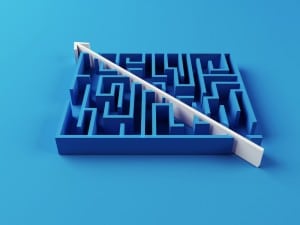 Since the first online transaction occurred in 1994, ecommerce has continued a forward moving trajectory marked by steady and constant improvement. With a seemingly endless supply of emerging sales channels, retailers that limit themselves to a single point of sale are at a dire disadvantage and all but a precious few have recognized the importance of digital sales.
Modern software tools allow brick and mortar businesses to transition online without introducing a new business that must be managed separately. Seamless data integration and order fulfillment bridge the gap between physical and virtual channels, allowing all orders to be processed from a singular platform that accesses inventory. Point-of-sale, ecommerce, and mcommerce no longer require unique knowledge or operational specialty for retailers to manage successfully — it has all merged under an umbrella known simply as "commerce."
Real-time transactions
A system architecture that allows for live transactions with a single and centralized database is the primary driver for a successful approach to seamless omnichannel fulfillment. This allows retailers to leverage inventory across all channels and locations, resulting in simplified operations and economies of scale across each channel. Not only does this result in swifter order fulfillment, but centralized inventories also allow replenishment within a single purchase order.
This integration provides customers from every channel access to the same inventory, minimizing sell outs and preventing lost sales resulting from backorders and other fulfillment delays. Retailers that eliminate inventory access issues from the sales funnel are better able to position each channel in a way that most heavily capitalizes on its inherent advantage; customers no longer must worry about which channel is most likely to have a product in stock when they all draw from the same inventory.
The disadvantages of dual systems
Some retailers rely on multiple databases to operate each channel individually instead of employing a singular database that aggregates data across all of them. This set-up requires them to manually enter inventory and product orders into disparate systems, causing inefficiencies and lost revenue. Replicating even the smallest data set can involve hours of labor and always introduces the possibility of entry errors.
There are some software solutions that allow the fusion of separate systems, but they typically require significant investment of time and capital and ultimately fall short of providing seamless management and fulfillment. In addition to coping with the intricacies of a fragmented retail database, information often gets lost during the transfer process, leading to dissatisfaction among both employees and customers. As with most software systems, disparate retail management platforms not integrated from the start rarely communicate flawlessly with one another.
Inventory shared
Today's shopper expects immediate gratification and when an item is out of stock in one store, the ability to get it from another is integral. Integrated retail management software can instantly determine which physical retail outlet has a specific item in stock, helping retailers to provide the best customer service possible. This software can also automatically route inventory from any store location to digital shoppers, providing immediate access to several local inventories and accelerating fulfillment. Using this procurement technique, online shoppers never experience delays unless a product is out of stock at every physical location.
Centralized inventory management also allows retailers to choose optimal shipping methods or ship-to-store so customers may pick purchases up at nearby brick-and-mortar locations or warehouses. Knowing where all inventory is located at all times enables nimble fulfillment from any sales channel and provides greater choice to shoppers.
Easy online merchandising
Another benefit of inventory data sharing across multiple channels is that it expedites the process of relaying the latest product information back to customers. Without a shared inventory database, brick and mortar retailers would need to replicate the same inventory data online to accommodate web sales. When a seamless integration of inventory between physical and virtual channels is achieved, retailers can add new product listings, pictures and descriptions directly to their websites with a single mouse click.
The seamless flow of data can also be used by retailers to maximize sales potential of the ecommerce channel through advanced features like email marketing campaigns and social media outreach. Additionally, it simplifies management of marketplaces like Amazon and eBay and comparison engines like Google, Nextag or PriceGrabber.
Integrate every channel into a single advantage
Truly entering the world of total retail requires more than launching a website or venturing into mobile commerce; it's a holistic methodology for effectively managing sales that originate from an expanding universe of channels. When the channels are not properly integrated, the result is more akin to separate businesses operating at individual levels. Retailers wishing to harness the full power of sales and marketing opportunities across channels must integrate operations into a single platform that unites the back-end of business, realizing the same structure of efficiency that consolidated frontline branding and messaging generate.
Michele Salerno is Director of Marketing with Celerant Technology.