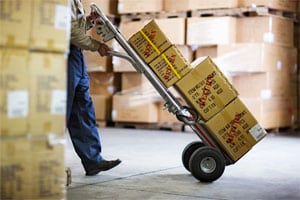 A higher percentage of retailers adopting more liberal returns policies to help drive sales, along with the general rise in ecommerce transactions, drove a significant increase in omnichannel returns during the holiday season 2015, according to ecommerce fulfillment provider Newgistics.
Patrick Allard, vice president of business development for Newgistics, said among the 450 retailers and brands the company works with, there was an increase in returns volume between 18% and 35% in January and into February.
"Many more retailers are offering free returns, either earlier in the year or directly tied to holiday promotions," Allard said. "That tied to the more liberal returns policies aimed at making customers 100% comfortable with their purchase decision, really drove returns volume in the early part of 2016." He added that clients are telling him the loosening of returns policies is providing a definite lift in sales.
At Operations Summit 2016, April 12-14 at the Duke Energy Center in Cincinnati, Allard will lead a panel discussion with retailers on "How an Exceptional Returns Experience Can Improve Your Profitability." He told Multichannel Merchant about some best practices in ecommerce returns that will be covered in his Operations Summit session.
For starters, communication with customers is key, Allard said.
"If you look at best-in-class returns experiences, it starts with messaging," he said. "Whether it's for customers on your website or from a mobile device, you need to provide a consistent, clear message on how to handle the return. For companies that are pure-play ecommerce, it's really important to have an online solution that doesn't make the customer dig through multiple pages or even pick up the phone. There should be a strong self-service component, giving them not only the right information but an easy way to make the return."
In the age of the customer, Allard said, providing a frictionless return experience can not only help you drive revenue but also drive costs out of the process. "You have to look at the order journey from the device to the doorstep, and all the way back again, to discover at what points you can leverage cost aversion tactics in your returns process," he said.
To learn more on this and other important topics in ecommerce and direct-to-customer operations and fulfillment, make sure to register now for Operations Summit. Over 800 industry leaders – from top retailers and brands to solution providers – will be on hand to learn and network. We'll have more than 60 educational sessions, including our co-located Growing Global conference which covers everything on cross-border ecommerce solutions and best practices.