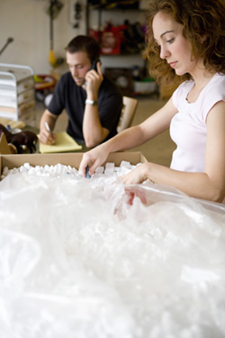 Operations and fulfillment personnel have many issues to consider with respect to packaging. Not only is it important to choose the correct type of container to ship your product in; the appropriate materials and package testing are also essential elements in the process to make sure your customers are getting product that is undamaged. Here are four things for operations and fulfillment personnel to consider when contemplating packaging, according to Patrick McDavid, package lab supervisor for UPS Customer Solutions.
Should retailers test packaging every time there is a change to a product?
As a product matures, retailers sometimes decide to make enhancements. But they don't always consider how that change could affect the packaging. They don't always consider that the package they've been using for years no longer works. Pre-shipment testing is the best way to identify if there are any packaging weaknesses.
At what damage frequency should operations and fulfillment personnel have their packaging tested?
Every customer and every situation is different. What retailers should consider are the implication costs for damaged products, and the steps they have to go through when damage occurs. There are phone calls back and forth between the shipper and the customer and the shipper and the carrier. The shipper has to remanifest the order, and repick, repack and reship from the warehouse. The damaged item needs to be returned, inspected, and a decision has to be made regarding whether to repair and resell, or scrap it. There are costs involved at every step in this process.
How do packaging materials vary between the palletized-freight environment and single-package environment?
In the palletized-freight environment, most packaging engineers and shippers are packaging to protect from a possible one-time catastrophic event that can occur during shipping or when the customer gets that package home. For example, a customer buys a television and it is packed in hard, rigid polystyrene foam. That is a single-impact cushion. It absorbs the shock by cracking and breaking apart. A lot of packaging materials in the palletized-freight environment are not well-suited for the single-packaging environment, where shippers need to choose cushions that have better multiple-impact properties, such as polyethylene and polyurethane. You can manipulate these materials and they will bounce back to their original design position. They absorb the impacts that occur during the manual and mechanical handling process and provide protection through entire distribution cycle.
If operations and fulfillment personnel have the right type of packaging, is void fill still necessary?
Void fill is material used for less fragile items, such as clothing, that need to be locked into place in the shipping container. One of the things that can be detrimental to a shipping container as it goes through the system is loose product bouncing around inside. That will increase the fatigue effect of the shipping container and could lead to the box tearing apart and the product spilling out. Void fill material is not meant to be used for high-value, fragile items. It is not there to provide cushioning and shock protection, just to keep the product immobilized.
To learn more about how package testing can affect your productivity and bottom line, click here to schedule an appointment with UPS at this year's NCOF.
If you're not attending NCOF but would like more information from UPS, please send UPS an email.
Related materials:
Case Study: Plow & Hearth Makes Satisfaction and Savings a Package Deal
An analysis of the products and packaging at UPS's state-of-the-art package engineering lab helps leading national catalog company pinpoint the causes of damage.
A Guide to Rethinking Your Packing Unit
Packing is a simple task requiring little or no thought: You pack the goods, seal the box, and send it to the shipping department. Right? Not quite. This job is tougher than it sounds, and it can affect your company when not handled properly.
Reduce Shipping Errors with a Quality Assurance Program
What's a quality assurance program? It's a set of processes designed to prevent shipping errors. Mistakes are bound to happen at firms that send thousands of orders a week, many containing items with different shapes and sizes. But they can be headed off with a modest investment in training and technology. This article explores the three categories usually omitted from a fulfillment accuracy measuring system; defective items sent, damaged goods due to poor packaging and unpicked items due to inventory discrepancy.
Solving Defective Items, Poor Packaging, and Inventory Discrepancies
A look at the three categories usually omitted from a fulfillment accuracy measuring system—defective item sent, damaged goods due to poor packaging and unpicked items due to inventory discrepancy.