Meeting the increasingly high demands of ecommerce customers and helping shippers drive efficiency in their fulfillment operations were two of the main themes as UPS and Sealed Air jointly unveiled their packaging innovation center. The 6,000-square-foot space is located on the campus of UPS Supply Chain Solutions near its Worldport air hub in Louisville, KY.
"This partnership enables us to give our mutual customers access to leading edge solutions that increase fulfillment speed, reduce material cost and waste, maximize labor resources, improve end user satisfaction and reduce the cost of shipping," said Alan Gershenhorn, Executive Vice President and Chief Commercial Officer for UPS. "Ultimately the relationship with customers is about more than moving goods."
"The vision is that with the rapid growth of ecommerce we believe it's necessary to help educate our mutual customers," said Ken Chrisman, president of Sealed Air's Product Care Division. "Customers need to understand how they can win in the increasingly competitive atmosphere. The center is designed to help customers large and small find ways to address the rising expectations of consumers."
Some of the newer Sealed Air products on display at the innovation center include Stealth Wrap, a system that applies a 29-layer high-strength poly film to reduce package size and increase cube utilization; and Korrvu, a system that applies film over products inside the box to make a better presentation and "unboxing" experience, which was introduced in November.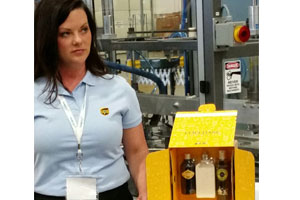 Through the partnership, Sealed Air engineers are helping UPS solve packaging issues for ecommerce clients, including designing and testing various solutions to reduce damage or achieve a lower freight cost without sacrificing protection. The resulting designs could lead to a new system, or a full integration of packaging and supply chain solutions. It also allows joint customers to run tests in a simulated environment at the center, which can feed development cycles for both companies.
Marc Roth, Director of Logistics and Distributor Sales for UPS, explained how Sealed Air's Priority Pack System, used to create sealed mailer-type corrugated packages for items like books and movies, can appeal to environmentally-conscious consumers while also eliminating void fill and addressing dimensional weight issues.
"According to the National Retail Federation, 40% of U.S. consumers favor 'green' companies," Roth said. "A retail customer using Priority Pack realized a 64% savings on shipping and a 79% savings on packaging costs."
Kyle Brown, Manager of Automated Fulfillment Solutions for Sealed Air, demonstrated FloWrap, a machine that can create up to 1,500 poly mailers per hour, compared to 200-250 per hour manually or 400-450 per hour on a semi-automated system. A pick slip stamped onto the package as it goes through is read by the machine, sending sorting information to a WMS and reducing costly mis-picks.
"Because packaging is no longer a bottleneck, companies can reduce or eliminate later shifts and increase efficiency," Brown said.