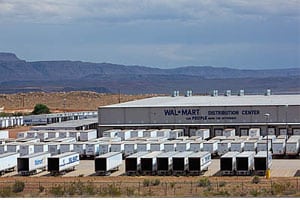 Walmart plans to test a new subscription shipping service for ecommerce orders this summer that is about half the cost of rival Amazon's popular Prime offering, setting back customers $50 a year and getting orders to their door in three days or less – compared to two days with Prime.
"We're doing a lot of tests to serve customers in new ways," said Ravi Jariwala, Walmart's director of public relations. "We will have a closed beta this summer by invitation only to test an unlimited shipping program that is predictable and affordable. Customer feedback will direct how the program evolves." He added customers can sign up online to join a waiting list.
While the Walmart program may seem enticing, Amazon Prime is a behemoth that will be near impossible to catch. It grew 53% in 2014 to reach about 30 million members, and the company has invested hundreds of millions of dollars in video content. And according to re/code, Amazon is expanding the Prime product offerings by reaching out to select merchants and offering to lift the requirement that their goods be stored at an Amazon fulfillment center in order to qualify for Prime's two-day delivery promise.
Jariwala said the new Walmart program will offer more than one million top-selling items, from toys to electronic gadgets; Walmart.com sells more than seven million products. He added the service would not offer features like free video and music streaming or ebooks on loan a la Amazon Prime.
As Walmart can't compete in terms of value-added services like those, or on Amazon's rapid delivery prowess – yet – the company might be positioning itself as the low-cost alternative for subscription-based ecommerce fulfillment. It can also be seen as a way for Walmart to regain some lost ground in ecommerce sales, and drive customer loyalty in advance of the crucial holiday shopping period.