New partnership between BeLive Technology and Trendyol brings a unique in-app live stream platform that allows customers to shop directly from live videos and interact with hosts to build stronger customer relationship with brands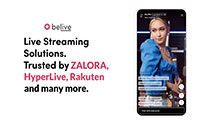 Singapore, Feb. 8, 2022 — Livestreaming solutions provider BeLive Technology has, today, announced the launch of Trendyol Go-Live App in partnership with Trendyol, Turkey's leading ecommerce company and one of the world's leading ecommerce platforms.
The collaboration enables the company's more than 200 thousand sellers to sell online via livestreaming directly through the Trendyol app or website, reaching more than 30 million customers. This latest partnership solidifies BeLive Technology's reputation as the leading provider for reliable, powerful, and engaging live streaming solutions.BeLive Technology operates from Singapore and Vietnam, and has delivered over 3.7 billion minutes of live video to over 100 million viewers worldwide.
The new platform, Trendyol Go-Live App, allows for direct live shopping, real-time customer engagement, and sentiment analysis among Trendyol's users. It enables hosts to cast their videos via multiple channels simultaneously, including YouTube and Facebook. The platform powered by BeLive Technology includes interactive features integrated natively in the Trendyol mobile app and website, enabling users to shop online in real-time, post comments, and share content.
The collaboration has come to fruition with the help of Enterprise Singapore, the government agency championing enterprise development. The organisation supports the growth of Singapore as a hub for global trading and startups, as well as builds trust in local products and services through quality and standards. With the new partnership between BeLive Technology and Trendyol, Singapore's visibility on the international stage is reinforced.
As lockdowns and self-isolation became common over the past two years due to the COVID-19 pandemic, businesses started embracing digital transformation at an accelerated pace. According to research by UNCTAD and eTrade, as lockdowns became the new norm, everyone was forced to go digital, purchasing more goods and services online and raising ecommerce's share of global retail trade to 17 percent in 2020. In addition to this, a study by Digital Commerce 360 showed that in 2020, online penetration hit 18.7% in the United States with ecommerce reaching USD $612.86 billion in the first nine months of the year.
"We are delighted to offer a powerful livestreaming platform to Trendyol, enabling them to better interact with customers, build stronger relationships, and operate more efficiently," said Kenneth Tan, CEO and Co-Founder of BeLive Technology. "Trendyol Go-Live App allows merchants to surf the wave of live streaming, the world's fastest-growing video medium. Live commerce also helps enhance brand trust due to its authenticity, which will lead to more time spent on the Trendyol platform. By offering a reliable in-app live shopping experience, we are confident this partnership will be a huge success."
"Live commerce offers retailers, brands, and platforms enormous value by blending entertainment with instant purchasing," said John Lu, Director of Enterprise Singapore, ICM and Digitalisation. "Riding the growing live commerce trend around the world, Singapore companies like BeLive Technology have continued to expand their overseas footprint to bring their suite of solutions to markets across the globe. We are happy to have assisted the Singapore-based livestreaming provider in exploring business opportunities with Trendyol, leading to this latest collaboration to offer a powerful platform in Turkey. Enterprise Singapore will continue to assist technology companies in making in-roads into overseas markets and finding like-minded partners."