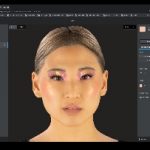 Camera IQ Composer empowers brands to quickly and easily create augmented reality content that enables consumers to visualize products through engaging, interactive and shareable brand experiences
Santa Monica, CA, July 13, 2021 —
Camera IQ
(
www.cameraiq.com
), the no-code design platform for AR, announced today the launch of its Virtual Try-On Composer, a state-of-the-art design tool that makes it quick and easy for brands in beauty, entertainment, retail and other sectors to build innovative AR-based Virtual Try-On experiences. The new solution re-imagines AR commerce by enabling brands to digitize their products with true-to-life accuracy and realism, while adding an array of branded elements and unique flourishes that engage and inspire consumers through their cameras.
While other solutions require time-intensive scripting and configuration methods or extensive production and development, Camera IQ's Virtual Try-On Composer makes it easy for brands to build sophisticated, customized augmented reality (AR) experiences at scale in a fraction of the time, with no coding required. The tool provides an array of customization options that give brands the flexibility to easily customize AR experiences with specific parameters such as color, shape, texture, finish, and more. Or they can simply upload their own 3D models, and the Virtual Try-On Composer automatically translates products into the camera so they can be incorporated into any campaign.
Unlike other virtual-try on technology, on Camera IQ, brands can enhance their Virtual Try-On experiences with an array of graphical elements designed to optimize for engagement, interactivity, and shareability. The Virtual Try-On Composer comes with a library of curated templates designed to achieve specific business goals like increasing awareness of a product launch, driving sales with product visualization and application, educating customers on how-to use their product, and more.
Brands can customize these AR experience templates, and even design interactive features into their experiences by adding triggers for effects to appear or actions to happen upon certain triggers, like the user opening their mouth or tapping an item. Camera IQ then deploys AR experiences at scale across Facebook, Instagram, Snapchat, and other platforms, enabling audiences to unlock their creative expression while trying on brand products virtually.
"The latest Camera IQ release is a game changer for my team," said Doug Wick, Content Design Director at Nestlé Purina North America. "The new UI is super intuitive and extremely flexible. The ability to add 3D assets and manipulate them in a true 3D environment makes it possible to take our creative executions to the next level quickly and easily."
"There's no doubt in the efficacy of AR for virtual try-ons, but that's just the beginning of what AR can do to bring brands and their audiences closer together," said Allison Ferenci, CEO and co-founder of Camera IQ. "Not only can AR drive social commerce by helping consumers visualize products, but it enables them to interact with brands in whole new ways through the act of co-creation. When brands marry the utility and fun of AR, that's when they see the biggest impact to their ROI: engagement rates soar, and the likelihood of conversion increases by 250%. We launched the Virtual Try-On Composer to help brands accelerate their commerce strategy, lower development barriers, and make it incredibly easy to build practical and engaging AR experiences. Now any brand can be an AR creator!"
To celebrate the launch of its new Virtual Try-On product, Camera IQ has partnered with celebrity and award-winning makeup artists including David Lopez (IG: @davidlopezzz), Keita Moore (IG: @kilprity), (Doniella Davy (IG: @donni.davy), and Erin Parsons (IG: @erinparsonsmakeup) to create digital makeup looks that replicate traditional makeup artistry. Beauty brands can empower their audiences to try on any combination of lipstick, blush, eyeshadow, eyeliner, eyelashes or accessories, all with the hyper-realistic colors, shapes, texture, finishes and other elements to match their real-world products. Retail brands can easily digitize their physical products to create experiences that allow consumers to visualize how their products would appear in the real world, or music brands can allow fans to recreate an artist's signature look from a video or album cover. The scope of Virtual Try-On experiences that can be built in Camera IQ's Composer is practically unlimited.
About Camera IQ
Camera IQ enables brands to engage audiences and sell products virtually at every touchpoint of the customer journey. Using their no code design platform for AR commerce, marketers can transform their products and brand message into rich augmented reality experiences for virtual try-on and consumer campaigns on social. As a global team servicing international brands such as Viacom, Atlantic Records, Nestle, EA, MAC Cosmetics, Away and more, Camera IQ works across industries to engage millions of consumers on a daily basis. Learn more at
www.cameraiq.com
.
# # #