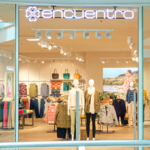 Groenlo, The Netherlands, Nov. 12, 2020 — Nedap announced today that Spanish womenswear brand Encuentro Moda has selected Nedap's !D Cloud software platform. The main objective is to achieve full supply chain visibility and merchandise visibility within their 125 stores across Spain. The RFID rollout began in September 2020.
!D Cloud is a software-as-a-service platform specifically developed for retail RFID applications. It provides retailers the fastest way to implement RFID and improve their in-store stock accuracy to over 98%.
Working toward becoming a major omnichannel player
Encuentro Moda source tags all its garments with RFID labels, which allows full traceability and stock visibility throughout the supply chain. Gonzalo de Lorenzo, CEO of Encuentro Moda, says, "As a brand with a limited digital presence just a few years ago, we have worked very hard as a company to become a major omnichannel player in the field of womenswear and accessories. To achieve a leading position we need to be at the vanguard of adopting game-changing technologies, such as RFID. This allows us to be absolutely certain of our stock levels, track all products right from the source of production and never miss a sale."
Real-time stock tracking
Encuentro Moda has established a closed loop between ERP, POS and !D Cloud RFID inventory management solutions. This connectivity allows seamless data transfer and provides extremely accurate real-time business information. With the resulting ability to track stock levels in real time, the online store now not only reflects warehouse levels but all in-store stock too. This is crucial for successful implementation of omnichannel services like ship-from-store, Click & Collect (BOPIS) and Click & Reserve.
Scalable solution for quick implementation
"We selected Nedap based on good referrals from major players in the fashion industry," said De Lorenzo. "The fact that this product is already mature means we can implement it quickly and scalably without the need for a proof of concept."
"We are delighted to have teamed up with Encuentro Moda and are gratified by the confidence they have expressed in our solution," said Sergio Gutiérrez, Business Development Manager RFID at Nedap. "We look forward to working with them to ensure they stay on top of the omnichannel game, to maximize their customer satisfaction and achieve future-proof retailing."