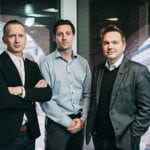 NEW YORK, USA – 19th October 2017 – Strengthening its position as the world's most active, dedicated Instagram influencer platform, Takumi today announces it has surpassed 1,000 paid influencer marketing campaigns and is now setting its sights on the lucrative US market. The forty person company, which was founded in 2015, has more than doubled its headcount in the last six months and opened a New York office – its first outside of Europe.
Speaking about Takumi's rapid expansion, Mats Stigzelius, Co-founder and CEO of Takumi said: "Ours is a platform built for high quality brand collaborations, and we think that's going to really resonate with the US market. We offer brands a way to work with the best influencers at scale, giving them access to high quality, authentic and engaging content. And, because we're a fully managed service, we save companies time by running the entire process for them. We're confident our approach can consistently deliver better results than those of our competitors, particularly in the US."
The rapid growth enjoyed by Takumi reflects the growing popularity of influencer marketing. Research published last month found that 96% of marketers have plans to spend on influencer marketing, with one in ten planning to spend more than £100,000 / $134,000.
The platform is now looking to expand its presence in the US, where there are already a number of established influencer marketing platforms in operation.
Solberg Audunsson, Co-founder and Head of Product at Takumi added: "We now work with around 1,000 different influencers every month and so far we've successfully completed over 1,000 paid-for campaigns, working with over 500 different brands and agencies. It's been a really successful period for the company, and the objective is to now build on that success in the US.
"One of the biggest factors in our expansion is the opportunity that Instagram represents. When we started out, influencer marketing on the platform still felt niche, but now it's growing faster than ever, and there are many different content styles and audiences for brands and creators to tap into. Instagram has become the go-to platform for influencers and by extension, influencer marketing."
Takumi also has offices in London, New York, Berlin and Reykjavik.
About Takumi
Takumi is a leading managed service platform for influencer campaigns, founded by Mats Stigzelius, Solberg Audunsson and Gummi Eggertsson. The influencer (iOS/Android) app allows approved Instagram users with as few as 1,000 followers to browse a selection of "gigs" listed by brands. The influencer chooses which campaigns they want to support, posting their own creative-spin on the proposed brief, including a hashtag signposting it as paid-for-content.