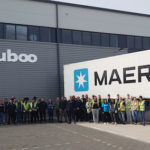 Huboo targets £27 billion U.K., Europe and U.S. fulfillment market and unlocks SME growth gridlock
Maersk Growth investment supports ongoing expansion and technology development behind Huboo's scalable, affordable ecommerce fulfillment service
Bristol, UK, March 17, 2020 – Maersk Growth, the corporate venture arm of container logistics giant A.P. Moller – Maersk, today announced growth investment into Huboo, the UK-based multichannel fulfillment service for ecommerce businesses of all sizes.
Huboo's innovative software platform provides professional, flexible and affordable fulfillment services that enable ecommerce businesses of any scale to deliver products to customers. The solution is particularly relevant for the UK's 5.9 million small and mid-sized enterprises (SME) for which ecommerce fulfillment can be a time-consuming and expensive gridlock on growth. Huboo currently operates in the UK, with plans to expand into Europe and the U.S. where the total market opportunity is an estimated £27 billion. Huboo achieved more than 100% quarterly growth at the end of last year. With Maersk Growth's support, Huboo will continue to develop its scalable software-enabled operating model and expand the suite of fast and affordable fulfillment services available to customers.
"Technology has armed retail businesses with an array of enterprise-grade opportunities right up to the point of picking, packing and shipping products to their buyers, quickly, reliably and cost-effectively," said Martin Bysh, CEO at Huboo. "In the UK alone, ecommerce fulfillment is a £4 billion market that our technology and service offering is custom engineered to fit, with future opportunities on a global scale. Our relationship with Maersk Growth brings strategic insight, capital and a fresh perspective to the table. We are strongly-positioned to scale our technology and unlock new opportunities further afield."
Maersk Growth makes minority growth equity investments to support ambitious, innovative and fast-growth early-stage businesses.
"Fulfillment is a surprisingly complex and time-consuming aspect of ecommerce, particularly for smaller and mid-size companies that are the meaningful engines of global economic growth," said Oliver Finch, Investor at Maersk Growth. "Huboo offers a breakthrough to this underserved market, using advanced automation software to provide an effective and scalable solution. There's clear alignment with Maersk Growth's focus on driving innovation in the transport and logistics value chain and we are incredibly excited to be part of Huboo's onward success."
Huboo's innovative software-driven approach offers multichannel fulfillment services with a level of flexibility, speed and service traditionally only accessible to larger organisations. A clear front-end dashboard provides stock control, order tracking and billing information to Huboo customers, while the core operational technology integrates with popular sales channels and marketplaces, such as Amazon, eBay and Shopify, to directly receive and process orders in real time. Huboo's warehousing and fulfillment service includes automated inventory management, storage, picking, packing and postage of items as they are sold, enabling businesses of all shapes and sizes to be competitive in today's fast-paced retail environment.
Maersk Growth's investment follows a substantial seed round led by Episode 1, and including True Capital and Ada Ventures. In less than a year following seed investment, Huboo has more than tripled its customer base to currently serve around 300 retailers, and grown to a team of over 50 staff.
Customer testimonial:
"We outsourced fulfilment to Huboo so that we could free up resources for us to concentrate on marketing and valuation – what we do best. Huboo's technology integrated seamlessly and it has saved us money and allowed us to grow", Liam Vasey, COO, Vintage Cash Cow
About Huboo
Huboo was founded in 2017 by Martin Bysh and Paul Dodd, with headquarters and warehousing operations in Bristol, UK.
Originally launched to help startups and SME businesses get their products to customers quickly and cost-effectively, Huboo today makes a comprehensive, software driven fulfillment service accessible to all sizes of business across the UK, with plans to expand its scalable model into Europe and the US.
Custom-built technology innovation behind the Huboo service offering includes a full WMS, and a one-stop dashboard for customers to set up, monitor orders and stock inventory, and track live product deliveries. The core technology platform integrates with all popular sales channels and marketplaces, with custom integrations also supported.
About Maersk Growth:
Maersk Growth is the corporate venture arm of A.P. Moller – Maersk. Maersk Growth invests and accelerates growth businesses to shape the future of trade, drive transformation in logistics and supply chain, and to support Maersk's corporate vision of delivering seamless, end-to-end logistics services.
Additional note – please be aware that the Maersk Growth's investment Huboo investment is not linked to A.P. Moller – Maersk's acquisition of the US warehousing and distribution company, Performance Teams.