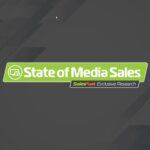 Big Rebound Coming in Recruiting and Entertainment Advertising 
WESTERVILLE, OH, Oct. 13, 2021 — Nearly half of media sales representatives in a fresh new survey expect their forecasted local-direct sales revenue will finish 2021 "significantly higher" than in 2020. Recruiting/employment (63%) and entertainment (45%) are seen as leading growth sectors.   
Much like their advertisers, recruiting presents a major challenge for media companies, especially when it pertains to the sales department. Seventy-eight percent of all respondents say that hiring high-quality salespeople is proving significantly harder than in previous years – a view that jumped to nearly 88% for digital* respondents.
These are some of the highlights of the annual State of Media Sales™ survey conducted by leading sales intelligence firm SalesFuel. You can download our free infographic with more results here: https://salesfuel.com/soms
"Media companies, like many other industries, are finding their current process for hiring salespeople is outdated, which puts them at a disadvantage in today's labor shortage," said SalesFuel CEO C. Lee Smith. "It's also time to consider expanding your candidate pool beyond those currently in sales to others having the qualities of a great salesperson including problem solving, coachability, listening and empathy."
Other highlights from the survey include:
69% of television and over-the-air (OTA) media sales managers expect recruiting/employment sector sales revenues to increase significantly

63% of digital sellers expect retail sector sales revenues to increase significantly

51% of all sales managers believe navigating employee stress, anxiety and mental health issues will be more challenging

50% of digital respondents expect sales increases from hospitals while 63% believe medical clinics sales will increase significantly

25% of media sales reps make at least half of their sales calls via video chat (like Zoom, FaceTime or Google Hangouts)
"In digital media, 50% of respondents say the lack of sales talent or competency is a major area of frustration," Smith said. "That demonstrates that hiring right now is THE most dangerous activity for employers as the economy reopens," says Smith. "Panic hiring and not properly vetting candidates will lead to lost time, money and opportunity. "
Assessments and solutions including new SaaS software SalesFuel HIRE can prevent costly hiring mistakes. For more information and for a free trial of SalesFuel HIRE, click here.
Survey Methodology: SalesFuel conducted the 11th annual State of Media Sales™ survey in August 2021. The 394 respondents to this survey were media sales reps and media sales managers including broadcast TV, cable TV, radio, newspapers/magazines, direct response and those who have more than 50% of their revenue from digital sources. All respondents were actively employed by media sales companies in the United States. Note that some respondents sell multiple media formats.
The questions in this survey were designed to help understand the level of optimism in the media sales industry. The data collected revealed the extent of the shift to digital formats in media sales and where media sales professionals see their greatest opportunities and challenges. Sales reps also revealed how they divide their time across specific selling activities on a daily basis.
*including OTT, other digital and digital agencies 
Media Contact: Audrey Strong astrong@salesfuel.com 614-318-3771
Global contact (outside of North America): Darby Doll darbydoll@salesfuel.com +886 909 069 356 
About SalesFuel®
SalesFuel's SaaS-based portfolio of sales tools, training and intelligence provide thousands of sales teams nationwide with the power to Sell Smarter®. SalesFuel leverages critical insights that enable our clients to attract, grow and retain their best employees and customers.
We believe that business today must be data-driven, adaptive, caring and consultative. It is all about intelligence – the vital information you cannot find in a Google or LinkedIn search. But it is also about knowing how to leverage that intelligence into productivity – and our team of sales, marketing and management strategists is here to guide you every step of the way.
Our portfolio of sales solutions includes:
AdMall@ – Providing tactical business intelligence for local marketing and media sales, AdMall makes selling easier, improves marketing results and quickly generates return-on-investment
SalesFuel HIRE – Five hiring assessments combined into a single data dashboard helps sales recruiters identify which candidates will be high performers (and which are sales imposters or toxic troublemakers)
CoachFeed – Our AI-driven sales microcoaching platform generates direct revenue by using high-value targeted B2B prospects/accounts and uncovering the hidden secrets about why your salespeople are missing quota
Sales Manager Training – The online sales manager training course every sales manager needs to immediately increase effectiveness and drive sales growth
Named as one of the Top 10 Sales Enablement Vendors for 2021 by Selling Power Magazine, SalesFuel was founded by C. Lee Smith in Columbus, Ohio in 1989 with a simple objective: Sales are the revenue engine of your company; we provide the fuel. Smith was also named by Selling Power as one of just six Leading Sales Consultants for 2020 worldwide.
For more information, please visit https://salesfuel.com and https://www.linkedin.com/company/sales-fuel/.