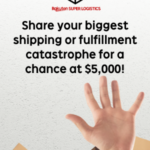 3PL Leader offering $7,000 in prize money to online business owners who share their greatest self- fulfillment or partner disasters 
Las Vegas, NV, May 20, 2020 — Rakuten Super Logistics (RSL), a leading eCommerce order fulfillment company that provides scalability, flexibility, and cost savings with 15 distribution centers strategically located in the United States, announced today that it has launched its search for the worst eCommerce shipping or fulfillment blunder. The best submissions of these "Oh Ship" moments are eligible to win a share of $7,000 in prize money. Business owners can submit their story here. 
"Mistakes, mishaps, errors, failures, blunders, or disasters — you can call them many things — we call them "Oh Ship" moments," said Jason Chan, VP of Marketing and Sales, Rakuten Super Logistics. "More importantly, these instances are unacceptable for our hard-working eCommerce and marketing experts who seek better reliability from 3PL providers." 
Rakuten Super Logistics is asking all America-based business owners who market and sell online to share their stories on the Rakuten Super Logistics website. The contest will accept submissions through the end of July 2020. Select winners will share a portion of the $7,000 in prize money, and entrants can review the terms and conditions here. 
"We've heard these horror stories from our current partners about their in-house methods or last order fulfillment providers, and we are active in online communities where people share their anger about preventable mistakes involving their products," said Chan. "eCommerce experts are good at what they do. They develop or source good products and are great online marketers. Poor fulfillment and shipping mistakes often result in returns, refunds, lost revenue, loss of customer trust, and a damaged reputation. No business owner wants that!" 
The only requirement for entry in the contest is sharing a factual account about the situation that occurred, what product you were shipping, and who the fulfillment or shipper was. 
"We know that many online business owners think they have the worst story– whether that's the wrong item shipped, the package delivered to the wrong destination, or that the goods were damaged during the process," said Chan. "Is your "Oh Ship" moment the absolute worst to take home our $5,000 grand prize?" 
About Rakuten Super Logistics 
Founded in 2001, Rakuten Super Logistics is a leader in eCommerce order fulfillment, serving hundreds of eCommerce retailers to increase the speed of delivery, improve order accuracy, decrease shipping costs, and increase customer satisfaction. Rakuten Super Logistics' cloud-based fulfillment platform for order and inventory management features integration with popular eCommerce platforms and automatic order importing from online marketplaces, including eBay and Amazon. Rakuten Super Logistics' 2-Day Delivery Network of wholly owned and operated fulfillment centers allow for 1-2 day delivery to 98% of the U.S. via ground shipping. 
Contact Sarah Smith Rakuten Super Logistics Marketing Operations Manager P: 702-997-1718 E: sarah.smith@rakuten.com