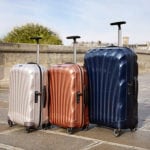 Yottaa announced today that Samsonite has selected its eCommerce acceleration software to improve web performance for seven of its online sites.
Samsonite, the global luggage retailer, sells bag and luggage products primarily under the Samsonite®, Tumi®, American Tourister®, Hartmann®, High Sierra®, Gregory®, Speck®, Lipault® and Kamiliant® brand names, as well as other owned and licensed brand names.
Samsonite recently launched an initiative to improve website performance in order to increase online conversions and provide shoppers with more engaging experiences. One of the key requirements for the initiative was to find a solution that was fully compatible with Samsonite's eCommerce platform, Salesforce Commerce Cloud (formerly Demandware). Following its acquisition of eBags, a longtime Yottaa customer, Samsonite began piloting Yottaa on several of its sites. Through the Yottaa eCommerce Acceleration Platform, which is used by many Salesforce Commerce Cloud clients, Samsonite experienced over 30% faster web performance and increased online revenue.
"With a greater focus on its D2C eCommerce, Samsonite has made significant investments in its product line and digital advertising," said Jay Nigrelli, Vice President of eCommerce, Samsonite LLC. "Yottaa helps us maximize the impact of investments we've made in our digital channels by providing us with one solution that can accelerate web performance across many different brand sites. This has resulted in dramatic online performance and conversion improvements."
In addition to deploying Yottaa to www.samsonite.com, Samsonite is using Yottaa to accelerate www.americantourister.com, www.gregorypacks.com, www.highsierra.com, jstrunkandco.com, www.lipault-usa.com, and shop.hartmann.com. These follow on the previously reported success using Yottaa on eBags, where revenue per visitor improved 15%.