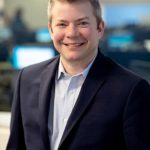 Itasca, IL, Jan. 27, 2020 — SEKO Logistics has promoted Brian Bourke to the new post of Chief Growth Officer. Responsible for the acceleration of SEKO's organic growth, Brian will drive SEKO's demand generation, revenue management and corporate marketing and communications initiatives.
In his new role, based at SEKO's corporate headquarters in Chicago, IL., Brian will work closely with Terry Unrein, Chief Commercial Officer, David Emerson, VP Sales & Marketing EMEA, and SEKO's global sales teams.
"This is a very important appointment in the natural evolution of our organization," said James T. Gagne, President and CEO of SEKO Logistics. "Under Brian's leadership, we will accelerate our growth through new demand generation programs to achieve strong organic growth, alongside our continuing acquisition focus. Part of the responsibilities also include assuring good product and market fit for our clients with a strong focus on yield management. Brian is a proven and respected member of our executive team and, in his new role, he is tasked with building and leading a team to drive our growth to the next level. Brian has also brought many unique solutions to our Clients that we have deployed at SEKO that are best in class."
Brian began his career with SEKO in 2005 after receiving his BA in Economics from the University of Wisconsin. He later joined Geodis Wilson as Head of Marketing Communications, before returning to SEKO in 2012 as Vice President of Marketing. Speaking six languages and holding immense industry knowledge, Brian has been responsible for the internal and external communication of the many features and benefits of SEKO's unique global logistics solutions. Brian has supported SEKO's international growth, helping SEKO grow into a global network spanning over 120 offices in 40 countries.
"I couldn't be taking this role at a more exciting time in SEKO's history. We have our strongest ever value proposition with the growth of our omni-channel, white glove and value-added freight forwarding services as well as a unique suite of configurable technology. Combined with the knowledge and expertise of our people, we can deliver solutions that open new business horizons and new markets for customers. Our growth will come from accelerating our customers' growth," Brian Bourke added.
SEKO Logistics expects another year of growth in 2020 as it extends its relationships with existing and new customers, and continues to pursue prime acquisition targets to bolster its omni-channel/e-commerce, white glove solutions and value-added forwarding services. In 2019, SEKO purchased Chicago-based customs brokerage and compliance consultancy, GoodShip International Inc. It also completed its largest-ever acquisition to date with the purchase of New York-based freight forwarder and cross-border ecommerce experts, Air-City, Inc., adding depth to its share of growing westbound airfreight and cross-border ecommerce trade for goods going from the U.S. to China. The move also strengthens SEKO's U.S. import services with the all-important 'Section 321' and Type 86 entries that are critical for cross-border ecommerce into the United States.