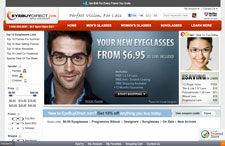 The bad news about the upcoming holiday shopping season is that the new Google Shopping program, which replaces free listings with paid ads, is going to wreak havoc with retailers' anticipated traffic from the engine.
The good news is that video can help rescue this traffic and bring visitors back to your site during this crucial time of year. Since videos remain in short supply on Google compared to other media, your product videos can still gain page-one placement in search results, overcoming the drain on traffic.
Of course, you're still going from a Google world in which you had free product listings to one in which you'll have to pay something (for example, bidding on when and where your product ads will appear). However, by leveraging videos, you can get far more value for the money you'll pay for your Google Shopping Ads—and this higher ROI will help bring back your products to page-one search results.
Video claims a few advantages over other types of listings in search results. Video remains a hot button for Google users—people love to see video, so Google is feeding this desire by placing thumbnails of product videos on the first page of search results. In addition, the thumbnail images for video are twice as large as any other thumbnails on the page (shopping or sponsored ad images), making them more appealing (and obvious) to people conducting searches.
Video also gives you more for your money because you can insert marketing messages within your videos, such as "Free Shopping" or "Sale Ends Saturday." If you choose a video thumbnail image with a promotional message, it will get greater exposure thanks to the bigger size of the thumbnail. (And make sure you do take the time to choose the thumbnails for your videos. Otherwise, Google will choose them for you, and they may not represent the content of your video in the best light. For guidelines on including thumbnail images in the video sitemap, click here.)
By placing higher in search rankings through video, you'll also avoid turning off prospective customers with sponsored ads. Google is experimenting with new ad formats that include larger images, but they'll be clearly marked "Sponsored," and that's a red flag to shoppers who seek sponsor-agnostic listings. Search users have already learned to skip over results at the very top of results pages because they know they are sponsored ads; instead, shoppers give more credence to listings in the 3rd+ position through the end of the first page of results.
Higher holiday visibility for videos
Creating more product videos (and better videos that lead to more conversions) can be key to drawing traffic to your site during the competitive holiday retail season. Here are more ideas for generating videos and raising their visibility:
Ask customers for their videos: Customers can be a great source of videos—and they love to watch them to see how other people get the most out of a product. Ask people to send you their reviews or how-to videos, which you can then post to your product pages and social networking sites and make available to Google for searching. Encourage shoppers to submit videos by staging contests or offering discounts, like eyewear website EyeBuyDirect.com does. You can conduct A/B tests for user-generated videos and determine which ones work best at driving conversions.
Strengthen your YouTube channel: The popularity of your YouTube channel will influence your page rank on that site as well as on Google, so make sure you are encouraging active participation by users. Post videos that drive comments and encourage sharing. Also, the website link that you can add to the "profile" section of your channel is a backlink that can help improve SEO. You can maximize the page rank you get from this link by commenting on other high-profile YouTube channels.
Promote social sharing: In your video player overlay, you can add social sharing links that will make it easy for site visitors to share your videos with their social networks. In turn, you can drive traffic back to your website videos by posting them to social networks, which can attract people back to your site.
Submit your video sitemap to Bing. We're focusing here on Google, but don't overlook Bing as it now accepts the Google XML video protocol. You can read more about how to do this here.
If you're planning to take advantage of video to make sure there's no falloff in your site traffic from Google, there's little time to spare: The Google Shopping changes begin in late summer, so you don't want to suffer a site-traffic meltdown just before the holiday shopping season gets underway.
Dr. Melody King is vice president of marketing at Treepodia.
More Google Shopping Content