Now that you have watched the above video, are you surprised that IMB predicts "buying local will beat online" as a part of its 8th-annual IBM 5 in 5 list of innovations that have the potential to change the way people work, live and interact during the next five years?
I am not. The trend towards omnichannel channel has been growing for a few years now (If you read Multichannel Merchant regularly, as you should, you'd seen the shift toward omnichannel happening, too!).
And if anchorman Ron Burgundy was to report a retail store on Black Friday, 2013, he would probably have said…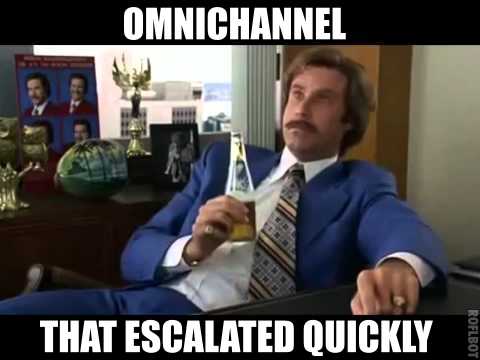 Consumers are showrooming. They also webroomed. Black Friday shoppers made purchases online. Look at department stores like JCPenney: They made sure ecommerce inventories mirrored what's in-store so Internet-enabled sales associated could help customers find out-of-stock items, and have them shipped to their home, place of business or to the store.
Omnichannel is here, and merchants who are not on board are missing the boat. IBM explains why in its 5 in 5 press release:
Shopping online is a national past time. Online sales topped $1 trillion worldwide for the first time last year, and are growing faster than in-store sales.

Online stores currently have an advantage in their ability to learn from the choices we make on the web. Today, most physical stores are limited to the insights they can gain at the point of sale – and the trend of showrooming is making it harder to compete with online retailers who compete solely on price.

In five years, new innovations will make buying local du jour once again. Savvy retailers will use the immediacy of the store and proximity to customers to create experiences that cannot be replicated by online-only retail. They will magnify the digital experience by bringing the web right to where the shopper can physically touch it.

In five years, retailers could rely on Watson-like technologies to equip sales associates to be expert about every product in the store. With technologies such as augmented reality and the recently announced plan to open Watson as an app development platform, IBM is providing shoppers' with better in-store browsing and buying experiences.

As mobile devices supported by cloud computing enable individuals to share what makes them tick, their health or nutritional needs, virtual closets and social networks, retailers will soon be able to anticipate with incredible accuracy the products a shopper most wants and needs. As a result, stores will transform into immersive destinations with experiences customized for each individual.

And given their proximity and multiple footprints, stores will be able to offer shoppers a variety of fast pick-up or delivery options, wherever the customer is. Two day shipping will feel like snail mail.
And IBM offered up this image/infographic as well.