"Porch Pirate" is the new name for the The Grinch Who Stole Christmas. These "pirates" steal the cheer from any holiday event, whether it is Christmas, Valentines Day or Mother's/Father's Day, by burglarizing doorsteps, leaving customers without their gift deliveries.
While we saw piracy spikes during heavy delivery periods like this past holiday season, thieves target unattended goods year round. In fact, according to a report by InsuranceQuotes.com, 23 million Americans had packages stolen from their doorsteps before they could open them. 
While there is little a retailer can do to directly guard deliveries for customers, porch pirates have an unfortunate impact on a retailer's brand. Dropoff recently reported that 94% of customers will blame a retailer when deliveries go badly, and our own research has found that 70% of consumers won't return after a single poor delivery experience. Over Cyber Weekend this year, we saw 40% of negative delivery feedback resulted from concerns that packages were "never delivered" despite the carrier reporting they were.
The takeaway?
Retailers simply cannot afford to leave the fate of customer loyalty in the hands of thieves.
The good news?
There are 4 key steps retailers can take to defend their reputation in 2017 by taking extra care to ensure the safe delivery of packages into customer's hands. 
Offer a Variety of Pre-Purchase Delivery Options 
The number one way to avoid theft is by having someone available to accept the package at the time of delivery. Not only will 66% of customers choose a retailer based on the availability of delivery options, but many of the options will also prevent items from being left unattended for pirates to snag. Examples of some options to consider are buy online pickup in store, delivery to a storage locker, signature request and even specification of where the package should be placed in the case the customer is not available to answer the door.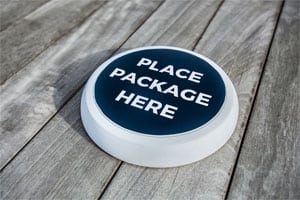 Communicate Early and Often
Proactive communication goes a long way. In fact, based on our research 75% of customers said proactive communication is important and consider it a vital part of the customer experience.To ensure a smooth, safe delivery experience, encourage customers to sign up for SMS, email or Facebook Messenger notifications to ensure they know exactly what is going on with their package.
When the package enters the local market alert the customer that it will soon be delivered. Take this opportunity to communicate the option to either re-route the package or have it held at the carrier terminal if the customer can't be home. Finally, notify the customer instantly when their package arrives so they can take action to ensure its safekeeping.
Provide a Clear Delivery Schedule
Encourage customers to make an effort to be home for delivery by proactively communicating estimated delivery early and often as it can change throughout the delivery lifecycle.
Furthermore, most parcel carriers and many freight carriers are now offering customers the ability to select a specific delivery date and window. Make sure customers aware this option is available. While the added cost may not be the right choice for everyone, customers waiting for expensive goods, like electronics or jewelry, may decide to schedule delivery so they can be home at a time that is convenient for them.
Not only will these efforts help reduce theft, but they will also help minimize the extra costs and delays associated with unsuccessful delivery attempts.
Be a Concierge
Make it as easy as possible for customers to take advantage of all of the options available to them by acting on their behalf. Work in conjunction with your customers and with carriers to orchestrate the optimal flow of deliveries. Prepare your team to monitor issues in real time. Establish a proactive culture where you reach out to the most valuable customers as soon as a delivery has been made to ensure they received it.
Although it is unlikely retailers will be able to stop porch pirates completely, taking action and communicating regularly can help ensure the consumer receives their product or a refund/replacement in a timely manner.
Poor delivery experiences can determine whether a customer is still a customer past holiday shopping season. In today's competitive environment, retailers must take control of delivery to drive customer loyalty and lifetime value.
Rob Taylor is the CEO of Convey