A burnt turkey.  A lump of coal. An ISP block. All of these can ruin your holidays faster than a nor'easter drops snow. I'm sure Martha Stewart and Miss Manners already have tips on how to avoid overcooking your bird and staying on the nice list, so I'm here to help you to decrease the risk of getting your email program blocked during the busiest time of the year.
Nothing puts a damper in your day more than sending your big promo and finding out your message triggered a block with an ISP. The time it takes to resolve the situation can mean lost sales, frustrated shoppers and a few angry knocks on your office door. While mistakes happen, there are ways you can lower the risks of getting your messages blocked.
These tips may help decrease blocking risks during the holidays, but the best way you can avoid issues is to use best practices and common sense throughout the year. Sending to opted-in email addresses, honoring unsubscription requests and sending relevant messages will help you to build trust with your subscribers and a positive reputation with ISPs.
In addition to reviewing your messages for CAN-SPAM compliancy, here are seven tips to minimize deliverability risks during the holidays:
Find the Frequency
Like most retailers, you will probably send more emails during the final months of the year. The challenge is to not tip the frequency scale so much that your subscribers feel you are overmailing.  Unfortunately, there's no magical formula to determine the frequency that will yield the maximum rate of return, though common sense can help you to navigate this threshold. If you typically mail once per week, sending three emails per day might overwhelm some subscribers and the backlash could result in those potential shoppers ignoring the message, unsubscribing or reporting the email as spam. Review sending frequencies from the past years to see whether these changes increased unsubscriptions, boosted spam complaints or decreased open rates. These changes could mean you reached the point where subscribers tuned out.
Remail Strategically
It's no secret that remailing can boost sales. However, during the holidays, when consumer inboxes are receiving tons of promotional emails, adding another email to your cadence could annoy your subscriber. Rather than resending the same email to the original audience, target subscribers based on engagement. For non-openers, use a subject line with a completely different form and tone than the original email. Change the format of the email (e.g.: product image grid to postcard/text format) for non-clicking openers. Update calls-to-action in the email to focus on savings and the benefits non-buying clickers would get by purchasing from your brand. Adding this layer of relevance will speak more directly to the subscriber and decrease the odds of the recipient seeing the additional email as a duplicate of the original send.
Segment by Recency and Engagement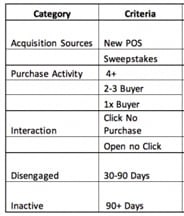 Before the season gets into full swing, build segments that categorize subscribers based on their level of engagement with your email program and how new they are to the list. Not only will this help you track how your subscribers are moving across the levels between inactive and loyal customer, but you will also be able to prioritize lists, such as new subscribers from point-of-sale, that have a higher risk for deliverability issues. Here's an example of what this structure could look like.
Provide an Easy Out
If you have experienced recent blocks or you anticipate having deliverability issues during the holidays, considering moving your unsubscription and/or preference management links from the footer of your email to the header. This will give folks who may use the lazy man's unsubscription option (aka the "report as spam" button) another way to quickly unsubscribe without hunting down that link. You can limit this change to higher-risk segments like the new subscribers from point-of-sale or sweepstakes entrants.
Get a Baseline
Go into the season knowing which acquisition sources have resulted in high bounce rates, unsubscriptions and spam complaints. Document baselines for these lists so you know how you are trending throughout the season. If one particular list or acquisition source begins to rise above that rate, you will be able to easily exclude the group from a mailing while you investigate what is causing the increase.
Avoid Desperate (or Magical) Moments
I'm never surprised when someone, somewhere within a company finds a list of a gazillion email addresses and wants the marketing team to mail them during the peak of the holidays. This person will think their discovery is going to make sales go through the roof. That's not how the story will end. I can say that, in my experience, every time this situation has happened and the list has been mailed, the email program was blocked and sales were lost. I rarely speak in such certain terms but it's never pretty. There may be some value buried in the list, but you need to be extremely cautious about any "magical" moments like this.
Check in With Your ESP
Reach out to your email service provider to see if there are other ways you can decrease blocking risks during the holidays. They may be able to identify issues that are specific to your sending ecosystem and can talk you through any updates on how to minimize risks throughout the season.
Jim Davidson is Director of Research at Bronto Software.