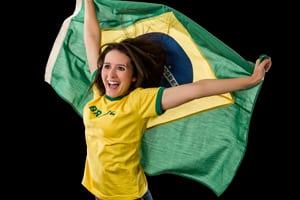 Despite the reported growth potential of Brazil, said to have reached $12.2 billion in U.S. dollars after a growth of 28% in 2013, many Brazilian consumers are forgoing the country's local businesses, choosing instead to buy American goods as a sign of wealth.
And while the demand should signal a revenue boost for U.S.-based small- to medium-size retailers, many are struggling to sell to Brazilian consumers due to the country's closed-loop network policy, which restricts Brazilian cardholders to only using their credit/debit card within the country.
Brazil, one-fourth of the BRIC nations, is one of the fastest growing economies during the past decade, which some attribute to the country's policy toward economic protectionism which sets taxes high and limits the import of cheaper goods. Yet, according to Payscout CEO Cleveland Brown, Brazilians desire American-made goods, which Brown says serve as a status symbol among Brazil's middle and upper classes.
[Want to learn how to drive your global ecommerce business? Click here and find out how to attend Growing Global.]
In addition, buying directly from ecommerce sites allows Brazilians to purchase goods at a much lower cost; for instance, a seahorse glow toy that costs about $15 on Amazon in the U.S. costs $75 in Brazil brick-and-mortar retail stores.
"Brazilian consumers are recognizing the affordability and availability of U.S. goods through ecommerce, and are taking advantage of the Internet as a viable shopping source," said Brown.
Brown's statement rings true, as reports show that Brazilians are increasingly using the Internet to research and purchase products—a reported 44 million people in Brazil engage in ecommerce, with sales at $24 billion in 2013 and projected to reach $39 billion in 2016.
But the problem for U.S. businesses lies in the fact that Brazilian consumers are restricted to only using their credit and debit cards within the country—and because 81% of Brazilian Internet shoppers do, in fact, use credit cards, the ability of American SMEs to capitalize on these consumers is made nearly impossible, says Brown.
Brown says that due to Brazil's closed-loop network policy, American U.S.-based small- to medium-size retailers wanting to sell to Brazilian consumers must complete a very difficult sequence of steps to establish a payment presence and to make credit card acceptance a reality, which Payscout documented in a recent case study that profiled Foreclosure.com's difficulties in selling directly to Brazilian consumers. Foreclosure.com contacted Payscout for a solution when over 90% of its Brazilian transactions were declined.
"Operating within the Brazilian market must be regulated by an experienced team of accountants, bankers, lawyers, employees and consultants on a daily basis in order to avoid ever-changing compliance and tax issues—the entire process can take years to implement, and for most businesses, that time equates to lost revenue and productivity," said Brown.
Because Brazil's limitations have historically severely limited the ability of American SMEs to enter the market quickly, Payscout took measures to simplify the steps taken to accept credit card payments in Brazil. Payscout's turnkey approach, a direct result of the company's existing relationships with overseas banks and experience in managed risk processing, assists SMEs in maintaining compliance and entering global markets successfully.
Payscout, Inc.'s subsidiary, Payscout Brazil, is the intermediary between merchants and the bureaucracy, in that through its payment network, online retailers are able to receive direct payments from cardholders.
Payscout assists businesses with low-cost merchant processing, allowing small to medium-sized enterprises across a multitude of industries to build relationships with clients while also being able to focus on global growth. Payscout specializes in online/ecommerce retailers, with a predominant proportion of card-not-present transactions.