Retailer shopped: ZAGG
Overall: The mobile shopping experience from ZAGG was difficult and bothersome. All landing pages took several minutes to load or didn't load at all. As a user, this would deter me from shopping with my mobile device at ZAGG again. Once the full site was uploaded, the shopping experience was a breeze and very pleasurable. 2/10 stars.
Device used: iPhone 4s
Time shopped: Approximately 10:30 a.m. on Nov. 26 on Cyber Monday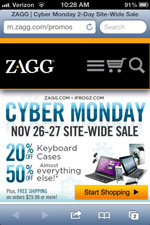 The email or Twitter or Facebook offer: ZAGG Cyber Monday 2 Day Event Email Offer
Landing page worked: All the landing pages designed for the mobile slight ran very slow. Some had to be constantly reloaded in order to fully download. I had to switch over to full site view after about 10 minutes of trying to shop on the mobile site due to slow loading times.
The item was easy/hard to put in the cart because: The original mobile loading page took several minutes to load, despite the fact that all other internet sites on the device worked normally. When I switched over to the full site view, putting items in the cart was effortless.
I was suggested an add-on, and it was: I was not given this option.
I abandoned the cart, and I received an abandoned cart email: I did not make the purchase. I abandoned the cart after filling out my email address, name and personal address. I did not receive an email or any type of cart abandonment notification from ZAGG.
Erin Lynch is the associate editor at Multichannel Merchant. Erin can be by emailing her at [email protected] You can also follow her on Twitter at @LynchMCM or on LinkedIn.
Most Recent Cyber Monday Articles