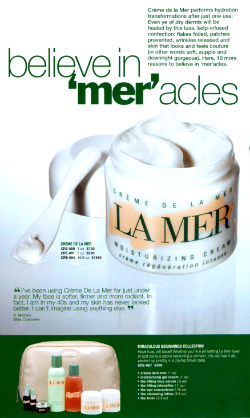 For at least five years — maybe 10 — this cry has resounded through the venerable ivy-covered walls of the catalog universe: "Printed catalogs are obsolete!"
Well, maybe. For some catalogs, maybe. But evolution doesn't necessarily demand elimination. Some of the 2010 print catalogs have adapted copy techniques that help blunt the automatic "instant" advantage online catalogs enjoy, while retaining the "deeper flavor" advantage that printed catalogs always have enjoyed.
So free shipping has been a Web advantage? Competition is the mother of reinvention, and adding free shipping to a printed catalog isn't much of a creative challenge. Neiman Marcus says on the cover of its early-2010 women's catalog, "We've missed YOU! Order now to keep the catalogs coming, and receive FREE SHIPPING!" (I know, "receive" free shipping isn't the height of any copywriter's art.)
Benefits and breeziness are in
The Web has superimposed a creative change onto the world of marketing, reflecting the attitudinal change of our targets. That change is more casual wording, such as replacement of formal wording with verbalisms and contractions — for example, "We'll" instead of "We shall" or "We will," "You'll get" instead of "You will receive."
On the cover of a general merchandise catalog: "We've packed this catalog so full of brand name merchandise at such huge savings that we know you're going to find something!…"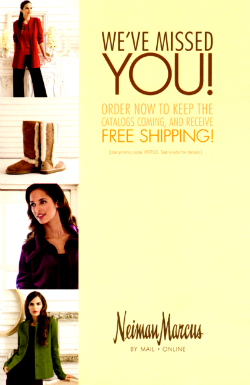 Another noticeable evolution is emphasis of benefits over features. This creative turn is neither novel nor surprising for creative teams who have long since become accustomed to matching up direct mail and Web.
The Web is price-driven, and recognition of that generic factor helps enable printed catalogs — even including those whose function seems to be referrals to their Web versions — to compete on reasonably equal terms.
Here in a printed catalog is a description of leather boots. In ancient times, wording for the heading might have been, "Save $50 on these genuine Durango boots!" Note the Web-era wording: "Shoe stores nationwide are selling these Durango side zip boots for $119.99. Our price? Just $69.99!"
Much of the Web description of these boots is identical — no surprise there. What may be mildly surprising to some is inclusion in the Web copy of a device that could just as well suppress response as enhance it: "Overall Customer Rating" with some blank stars followed by, "(0 reviews)."
Since sanity demands an eyes-on decision of whether or not to include comments, inclusion of this byway suggests a negative triumph — automation over salesmanship.
Playing in their sandbox
On the cover of an apparel book: "Save up to 65% OFF."
On the cover of a catalog of educational courses: "Now for a limited time — SAVE 75%! on our best-selling sets!"
On the cover of a catalog issued by one of the biggest marketers of fruits and vegetables: "Everything on sale! Save up to 50%."
Unsurprisingly, on the cover of a vitamin/supplement catalog: "SAVE up to 80% off retail prices on top brands … EVERY DAY!"
Before we draw a cosmic conclusion, let's recognize the timing. All these catalogs are early-2010 editions, and post-Christmas catalogs tend to be a little frantic. We expect Web catalogs, though, to assume a competitive overtone unrelated to any particular time of year.
Regardless of medium, price or list selection, never has the gulf separating vendor's wishes from prospective customer's wishes been as pronounced as it is in the crucial year 2010. To encapsulate: The seller's concern: what it is. The sellee's concern: what it will do for me.
Herschell Gordon Lewis is the principal of Lewis Enterprises (www.herschellgordonlewis.com) in Pompano Beach, FL.