B-to-C, $10 Million to $75 Million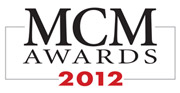 The campaign: The outdoor apparel retailer looked to reinforce its brand heritage and quality by offering a limited, hand-numbered edition of an historic garment; sell through the production run for this limited edition Scarlet Cruiser coat. Filson's crosschannel campaign included email, public relations, Facebook, its print catalog and its own customer support team. The product also got some airtime as part of a Travel Channel Made in America segment.
The result: Filson sold out of the limited edition run of 897 units in 11 weeks, was able to recreate and recount the history behind the Scarlet Cruiser, and generated significant public relations brand impressions.
What the judges loved:
Sarah Fletcher: "Really well done with excellent integration between the merchants, marketing and creative teams."
Gina Valentino: "It was interesting that you didn't use a promotional offer instead focused on the introduction of a limited offer and spotlight the 'what's in it for me' creative. Your creative was like having a sales person on the page to answer questions and guide the customer through the sale. Well done."
What could have been better:
Brad Wolansky: "Consumer engagement thin though, not sure how much customers engaged – felt like traditional one-way communication to me."
2012 MCM Awards Winners