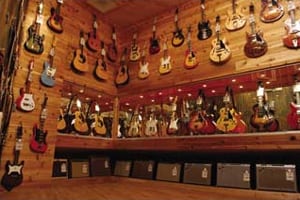 Holiday 2013 is upon us – and, for retailers, it's the biggest omnichannel shopping season yet. Consumers will turn to multiple channels before making holiday purchases, combining web searches, to mobile apps, tablet browsing, and in-store visits. And they'll also want multiple ways to get their goods – same-day delivery, ship-to-store, reserve-online, online layaway, pay-in-cash etc.
Amid this increasingly complex environment, channel-hopping consumers now expect retailers to deliver a seamless experience. They won't tolerate clunky web and mobile experiences, poor customer service, or complicated checkout procedures.
So what can omnichannel retailers do now to fine-tune their offerings in the run-up to Holiday 2013? The best way to achieve success is to learn from retailers that have nailed the omnichannel experience.
If any retailer knows about delivering a great customer experience in a complex omnichannel world, it's Guitar Center. The $2.3 billion company manages multiple retail brands targeting diverse audiences, including Musician's Friend and Guitar Center. The company operates popular e-commerce sites MusiciansFriend.com and GuitarCenter.com, as well as 250 stores across the US.
Guitar Center has embraced customer feedback to improve the shopping experience in its stores and online, as well as via mobile, call center, and catalogs. Taking its customers' feedback to heart to improve every step of the shopping experience, Guitar Center has consistently scored highly on the OpinionLab Customer Feedback Index, obtaining a median score of 570 in the last three months and ranking near the top among omnichannel retail brands.
How does Guitar Center deliver great experiences that resonate with shoppers? We got the chance to talk to Guitar Center usability analyst Sourav Bhuyan to get his experience and insights. In the run-up to the biggest omnichannel holiday season ever, maybe your retail brand can learn a few tips from Guitar Center's success:
Q: What is the foundation of delivering a great customer experience?
A: Delivering a great experience starts with delivering a consistent one. We serve different customer sets with our different retail brands, so we strive to make each of those brands a consistent experience for the music fans who shop there. Second, to find out what our customers want, we ask them.
We collect feedback through 'digital comment cards' on both GuitarCenter.com and MusiciansFriend.com, and also use customized comment cards during the checkout and navigation processes, to see what part of the experience customers like and which they find annoying or problematic. In-store, sales associates provide feedback via in-store terminals when customers place special orders.
Q: How does this feedback inform your decisions about optimizing the customer experience?
A: Customer feedback informs all of our major business decisions; there is nothing more important to us than what our customers think. We distribute all customer comments throughout the business via daily emails and reports. A dedicated team vets all feedback each morning, sending comments onto management and/or the appropriate teams. We analyze customer comments to see how customers feel about our online sites, stores, associates, the order process, shipments – everything – and then use this feedback to make improvements.
We've even used feedback to improve back-end processes such as distribution and order management. For example, via digital comment cards on MusiciansFriend.com, we discovered some delivery dates for backorders were not accurate, and that understandably frustrated customers. We realized that systems and processes in the distribution center were not aligned with our web content feeds, so we were indicating products were ready to ship before they actually were. We fixed this problem right away.
How has customer feedback helped you improve the experience in your 250 retail stores?
Every one of Guitar Center's 250 locations has an in-store web application that associates use for special orders leveraging our e-commerce inventory as well as inventory from other stores. This is an important service that generates significant revenue for our company.
Special orders provide a different user experience than typical browsing, because the app is designed to aid their consultative selling abilities for inventory that is not immediately available in store. We asked our floor sales staff to obtain feedback during every order and then coded that feedback as 'terminal' to separate it from general customer comments.
By segmenting comments like this, we were quickly able to spot areas where frustration with the special order process, and then address them. We also received general comments about the store experience, including feedback that our in-store website performance was sluggish, as well as a few issues with the checkout process.  We have adjusted functionality based on feedback and continue to work on our associate facing web applications.
Do you have any parting advice for other omnichannel retailers in the run-up to the holiday?
At the end of the day, there is no silver bullet in omnichannel retail. We are always looking at new ways to streamline and improve the customer shopping experience, including using new web technologies, mobile apps, and QR codes. But inviting our customers to speak, and listening to what they have to say, has been the most important part of our omnichannel strategy.
We find delivering a consistent experience that meets customers' needs is critical, because measurable wins in customer satisfaction over time build into big wins – long-term loyalty and improved sales.
Jonathan Levitt is Chief Marketing Officer at OpinionLab.