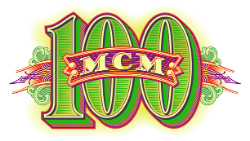 The Largest Multichannel Merchant companies got a little smaller in 2009. No real surprise, given that it was one of the worst retail years on record, but still a bit disconcerting to see so many numbers go down.
For the purposes of ranking 100 companies, it wasn't a matter of who grew revenue the most, but rather who grew at all. Or who didn't shrink quite as much.
Companies just trying to survive the economic meltdown that started in late 2008 were learning to do more with less — fewer staff, lower circulation and reduced marketing budgets. And most did do a good job reining in expenses.
But if a significant portion of your business is driven by print catalogs and you cut circulation, you will see reduced revenue. Growth in online sales — though perhaps not as robust as in previous years — for many kept a bad year from being worse.
Sure, some did see growth. Office supplies merchant Staples (#3) managed to add $740 million to its 2009 direct revenue, an increase of about 9%. Patterson Cos. (#13), which sells medical, dental and veterinary supplies, was up about 7%, to $3.2 billion.
On the consumer side, multititle mailers Amerimark Holdings (#43), which targets seniors, and Urban Outfitters (#61), which sells clothing, gifts and decor, were both up about 20%.
Other multititle merchants, including Swiss Colony (#38) and Redcats USA (#25), reported flat sales; many other marketers were close to flat as well.
On the downside, industrial mantainance mailer Wesco International's (#8) sales slid 24% — or by $1.39 billion. Even Dell's (#1) direct revenue was down about 13%, or $6.97 billion.
1-800-Flowers.com's (#45) direct sales plummeted sharply, from $926.7 million in 2008 to about $500 million. But that's largely due to the marketer shedding its gifts and children's' catalog titles, which it officially divested in August.
Goodbye, hello
Some long-time companies no longer appear on the ranking. Macy's, for instance, is off the list, since the department store retailer phased out its Bloomingdale's By Mail catalog in early 2009. Electronics merchant J&R also dropped its print catalog in 2009. Other slid off because their sales slid.
Then there are a few merchants making their debut on the MCM 100. Several of these have grown fairly rapidly through acquisitions, such as Gardens Alive! (#92). The merchant expanded beyond horticultural products with several acquisitions in the past two years.
Boston Apparel Group (#67) is another newcomer: It was created by private equity firm Monomoy Partners two years ago after it bought the Missy division of Redcats USA.
Not that every merchant new to the list grew via acquisition. Vitacost.com (#86), a catalog/Web marketer of vitamins, supplements and the like, managed to increase sales from $143.6 million in 2008 to $191.8 million. That's up 34% — robust, healthy growth, especially in a tough year.
Continue to Page 2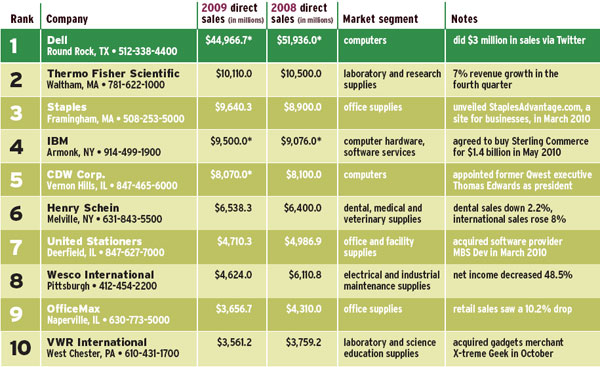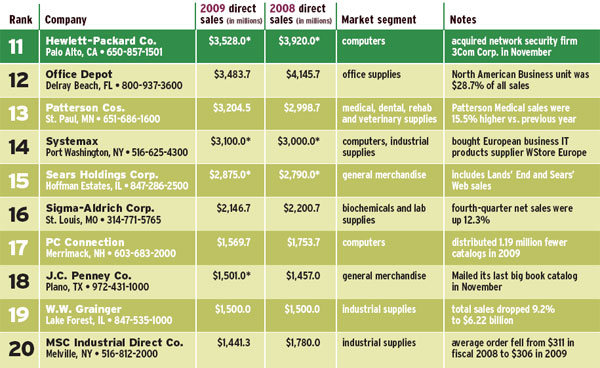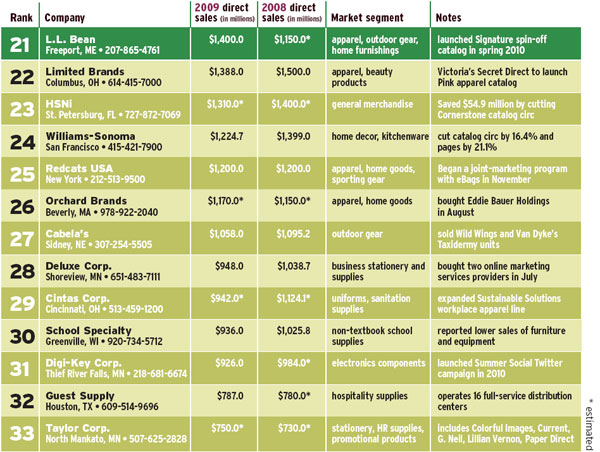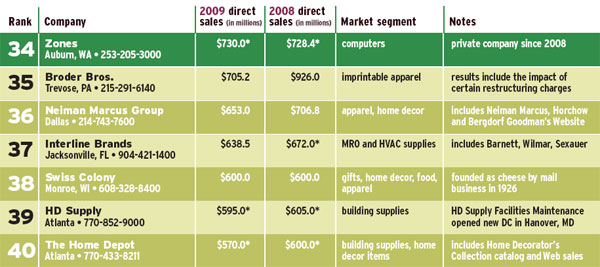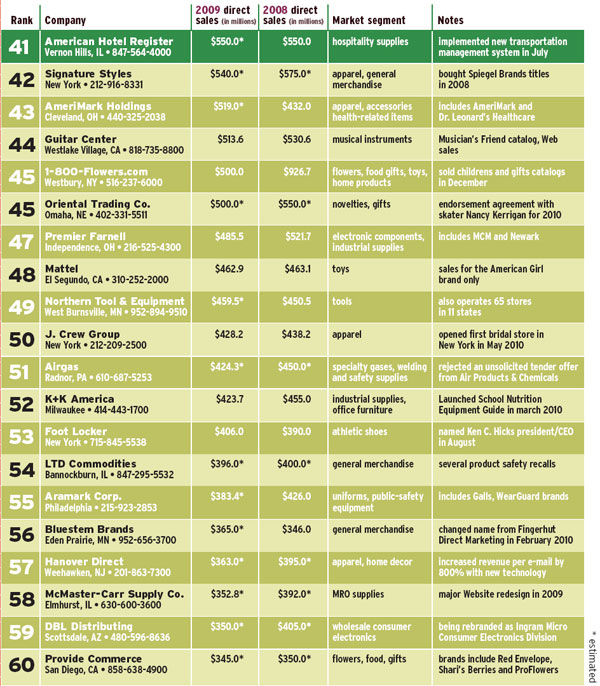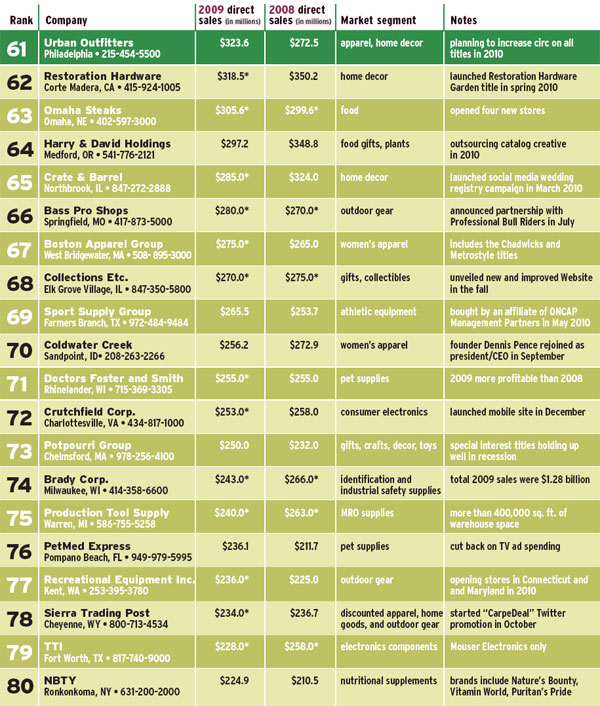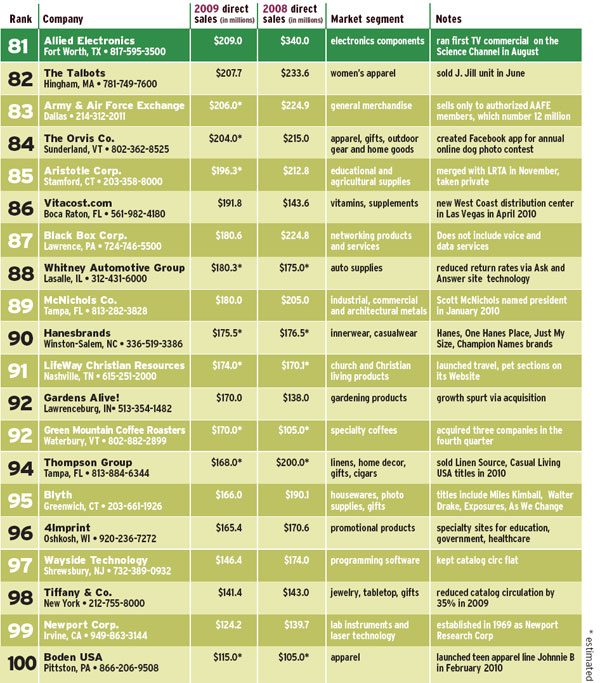 Continue to Page 3
The Multichannel Merchant 100 was compiled by the Multichannel Merchant editorial staff through public records, data-card analysis, and input from financial analysts and sources within the industry. To ensure the accuracy of all statistics, Multichannel Merchant tried to contact executives at each company. Some companies declined to confirm sales totals; others did not return messages.
In those cases, or when companies would provide only approximate sales, an asterisk indicates that the figure is an estimate.
Sales are for calendar years 2009 and 2008. When a company's fiscal year varied from the calendar year by more than one month, Multichannel Merchant backed out the data to obtain calendar-year sales.
Whenever possible, sales figures are net of sales taxes and shipping and handling revenue. In some cases, the figures for 2009 differ from those reported last year, reflecting updated information.
For parent companies and cataloger/retailers such as Patterson Cos. and J.C. Penney Co., sales figures are for their direct divisions only, unless otherwise indicated. When companies broke out their telemarketing or field sales revenue from their print and Web catalog sales, we did as well.
To be considered for the Multichannel Merchant 100, a company's print catalog had to account for a significant portion of the business's direct sales, which is why major direct marketers such as eBay and Insight are not on the list.
Next Page: Notable deals of the past 12 months
Notable deals of the past 12 months
JUNE 2009
Horticultural mailer Gardens Alive! bought home decor cataloger Touchstone
JULY 2009
German mail order company Bon Prix purchased swimwear cataloger/retailer Venus Swimwear
AUGUST 2009
Eddie Bauer Holdings, which had filed for Chapter 11 in June, is sold to Golden Gate Capital (Orchard Brands) for $286 million in cash
SEPTEMBER 2009
Gardens Alive! acquired the U.S. operations of Thompson & Morgan Seedsmen

Cabela's sold its Van Dyke's Taxidermy unit to McKenzie Sports Products
OCTOBER 2009
VWR Education acquired X-treme Geek, a direct marketer of science-related gifts

Cabela's sold wildlife-art division Wild Wings to RDE Acquisition Co.
NOVEMBER 2009
Airgas acquired Tri-Tech, a distributor of industrial, medical and specialty gases
DECEMBER 2009
1-800-Flowers.com sold its home and children's titles to PH International, an affiliate of Evergreen Enterprises

Airgas acquired Fitch Industrial & Welding Supply, a gas and welding supply distributor

Henry Schein merged its U.S. Animal Health businesses and Butler Animal Health Supply into a new company called Butler Schein Animal Health
FEBRUARY 2009
Private equity firm Monomoy Capital Partners, which owns Boston Apparel Group, acquired women's apparel cataloger Casual Living USA from the Thompson Group

Dell bought Kace, a systems management appliance company
MARCH 2010
Sport Supply Group entered into a merger agreement to be acquired by an affiliate of ONCAP Management Partners

Orchard Brands acquired home goods title Linen Source from Thompson Group
APRIL 2010
Sport Supply Group bought the assets of team sports distributors Coaches Sports Corner and Greg Larson Sports
MAY 2010
Deluxe Corp. acquired Custom Direct, a direct-to-consumer provider
Who owns what
MANY OF THE MCM 100 ARE MULTITITLE MAILERS. HERE'S A GUIDE TO WHO OWNS WHAT:
1-800-FLOWERS.COM includes 1-800-Flowers.com, Ambrosia, Cheryl & Co., Fannie May, Geerlings & Wade, The Popcorn Factory

ARISTOTLE CORP. includes American Educational Products, Nasco, Summit Learning, Triarco

CASUAL MALE includes Casual Male XL, Rochester Big & Tall Clothing

CHARMING SHOPPES includes Figi's, Catherines, Shoetrader.com

GARDENS ALIVE! includes Bits and Pieces, Breck's, Gurney Seeds, Henry Field's, Michigan Bulb, The Paragon and Spring Hill Nurseries, Thompson & Morgan Seedsmen, TouchStone

HANOVER DIRECT includes Company Kids, The Company Store, Domestications, International Male, Silhouettes, Undergear

HSNI includes Ballard Designs, Frontgate, Garnet Hill, Improvements, Smith+Noble, The Territory Ahead, TravelSmith

INTERLINE BRANDS includes Barnett, Copperfield Chimney Supply, Hardware Express, Leran, Maintenance USA, Sexauer, SunStar Lighting, U.S. Lock, Wilmar

ORCHARD BRANDS includes Appleseed's, Bedford Fair Lifestyles, Blair Corp., Brownstone Studio, Coward Shoes, Draper's & Damon's, Eddie Bauer, Gold Violin, Haband, Intimate Appeal, Lew Magram, Linen Source, Monterey Bay Clothing Co., Norm Thompson Outfitters, Old Pueblo Traders, Sahalie, Solutions, The Tog Shop, Willow Ridge, WinterSilks

PATTERSON COS. includes Masune First Aid & Safety, Medco, Sammons Preston, Webster Veterinary

POTPOURRI GROUP includes Back in the Saddle, Catalog Favorites, Expressions, In the Company of Dogs, Nature's Jewelry, NorthStyle, Pyramid Collection, The Stitchery, Serengeti, Whatever Works

PROVIDE COMMERCE owns Cherry Moon Farms, RedEnvelope, ProFlowers, Secret Spoon and Shari's Berries

SCHOOL SPECIALTY includes ABC School Supply, Abilitations, Brodhead Garrett, Childcraft, Delta Education, Frey Scientific, Hammond & Stephens, Sax Arts and Crafts, Sportime

SIGNATURE STYLES includes Spiegel, Newport News, Shape FX

STAPLES includes Corporate Express, Quill Corp., Smilemakers, Medical Arts Press

SYSTEMAX owns Circuit City, CompUSA and TigerDirect

THE SWISS COLONY includes Ashro, Ginny's, Home Visions, Midnight Velvet, Monroe and Main, Montgomery Ward, EaceTeamGear.com, Room for Color, Seventh Avenue, The Swiss Colony, The Tender Fillet, Through the Country Door

TAYLOR CORP. includes Colorful Images, Current, G. Neil, Lillian Vernon, Paper Direct, Sa-So

URBAN OUTFITTERS includes Urban Outfitters, Anthropologie, Free People, Terrain

W.W. GRAINGER includes AW Direct, Ben Meadows, Gempler's, Highsmith, Lab Safety Supply, Professional Equipment, Rand Materials Handling