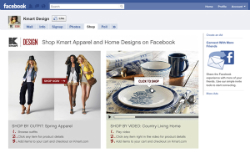 Orvis launched a Facebook page as a way of communicating with the fly fishers who make up a significant part of its audience. For Kmart Design, Facebook was a means of changing customer perceptions about the retailer. Firebox.com uses its Facebook presence to entertain customers and receive immediate feedback.
All three merchants have something in common: They ventured onto the social network with definite goals, and they are investing resources to achieve them.
"You can't just be there on Facebook," says Graeme Grant, CEO of online marketing software provider Allurent. "You need to be relevant, compelling and fresh."
Grant believes that for business-to-consumer marketers, a Facebook page is imperative. "Your consumers are there, and missing the way to engage them effectively is a big mistake."
Of course, many brands that do have a Facebook presence nonetheless fall short of engaging with their audience. Failing to update the page regularly is a common reason, says Monica C. Smith, founder of agency Marketsmith. "It takes daily work and effort to be part of a community. Remember, Facebook is like any other family."
Updating shouldn't simply be a matter of dumping messages about your latest and greatest products on the Facebook wall, however. Yes, consumers who have opted to visit your page or become fans of your brand are interested in your product. But they're coming to your Facebook page for much more; otherwise they would head to your e-commerce site instead.
Kmart decided earlier this year to establish a Facebook page for its Kmart Design Website, which emphasizes the design pedigree of its proprietary apparel and decor merchandise. "We built everything around an area of what we call curious disbelief," says director of brand management Jeff Fagel. The primary goal of the Kmart Design site and Facebook page is to let shoppers know that the retailer offers much more than its famous blue-light specials.
To that end, Fagel focused on four areas of content when building the Facebook page. The first was general brand-related information: news about products, ranges, discounts, and the like.
Next was education, which is why the page includes videos of fashion advice and home makeovers using Kmart products. Sharing was the third element, which is of course what the Facebook walls, the areas on which visitors can post comments, are designed for.
Kmart Design regularly posts news on its wall, but it also uses the wall to respond to visitors' comments. "It's an opportunity for us to have direct communication between our design team and customers," Fagel notes.
The fourth area of content on the Kmart Design Facebook page is shopping. Fagel wanted to provide visitors with a way to easily purchase items they saw discussed on the page, but he didn't want to merely include a link to the Kmart e-commerce site.
"There was a need to be a different experience than an e-commerce site while keeping customers and viewers within the experience itself," Fagel explains. He worked with Allurent to include a "shop by video" function: Viewers watching a Kmart video featuring a new range can click on a product they like; the video will stop, and a product page for the item will appear. Shoppers can view more details about the merchandise and add it to a shopping cart then and there.
Taking measure of engagement
The closest most retailers come to selling on their Facebook pages is to link to their core e-commerce sites. By showing their wares to Facebook visitors in an entertaining manner different from the hard sell of their e-commerce sites, catalogs and other sales media, many marketers feel those visitors will be engaged enough to head to the business's store or Website or call when they're ready to make a purchase.
That's the philosophy of Firebox.com, a direct merchant of quirky gadgets and gifts. Under the "News" tab it does post descriptions of its latest products, with a link to the product pages on its e-commerce site. But by and large it offers "content that would provide value to customers and an opportunity to interact with us," says PR manager Claire Wood. "Photos, newsletters, new product updates and interesting, quirky stories are the basis of our content."
To persuade its nearly 25,000 Facebook fans to submit photos and stories, Firebox is big on contests. To raise money for the Movember Foundation, which supports funding and education centered around prostate and testicular cancer, in November it awarded prizes to customers who submitted the most entertaining photos of themselves with mustaches, real or fake.
Keep up with Facebook fans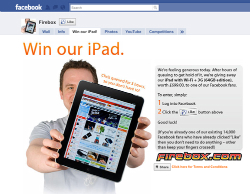 To ensure that conversations with its Facebook fans remain two-way, Firebox has a marketing assistant spend roughly one to two hours a day maintaining the page. "Constant monitoring is required," Wood says, "particularly when special campaigns are going on. It's important that she responds quickly to comments."
A member of the Orvis marketing team spends a similar amount of time maintaining Orvis's Fly Fishing Facebook page, says Tom Rosenbauer, marketing director of the cataloger/retailer's Rod & Tackle division. (Orvis also has several other Facebook pages, including Orvis Dogs.) Among his tasks are posting podcasts about fishing and hunting, and "cleanup of nasty posts," Rosenbauer says.
Rosenbauer himself devotes about 15 minutes a day to the page "answering technical fishing questions and responding to suggestions for podcast topics." Podcasts are a key element of the Orvis page, which logs an average of 10,000 downloads a week.
Facebook is about listening as well as talking, Rosenbauer says: Orvis felt Facebook was "a good way to initiate dialogues with our customers, especially our fishing customers who are so passionate about the sport."
Passion, of course, is tough to measure. All the same, it's as important to gauge the effectiveness of your Facebook presence as it is to track the effectiveness of your other marketing channels. The Facebook metric easiest to quantify is the number of fans you have. But quality is, as ever, at least as important as quantity.
You need to track how engaged those fans are: Do they return repeatedly to the page to check out your latest posts and links? Do they submit comments and photos? Do they download and share videos?
Creating a community of engaged customers takes time — not just in terms of the man-hours you need to invest but also regarding how long it may be before you gain a significant amount of traffic. Grant advises committing to 6 to 12 months of experimenting with Facebook before deciding whether you want to ramp up the resources you dedicate to it.
And even then, the most important resource isn't money, but attention. "The biggest investment is saying, This needs to be a part of my go-to-market," Grant says.
QUICK TIPS FOR FACEBOOK SUCCESS
Use dedicated URLs for any links you post on your Facebook page, as well as dedicated 800-numbers, suggests Monica C. Smith, founder of agency Marketsmith.

Post new content regularly. Try to stick to some sort of schedule. Fashion brand Charlotte Russe, for instance, posts new looks every week, says Graeme Grant, CEO of systems provider Allurent. "You can't just post some things to walls periodically, because fans miss it," he notes. "It's good to be regular so that you compel them to keep coming back."

But don't post content just for the sake of posting. If you clog fans' Facebook feeds with irrelevant content, they'll click the "remove" button — and no doubt harbor less-than-complimentary feelings toward your brand.

Think of hooks that relate to your brand. "Tell them about celebrities, news or interesting educational information tied to the brand in real time," Smith suggests.

If you sell fashion-forward apparel, you could introduce a celebrity trend-watch tab on your page on which you post photos and ask fans to vote on which star looked best that week. If you specialize in gardening products, run a contest in which you select the best fan-submitted photo of a garden. If your target pet owners, raise funds for a nonprofit such as the ASPCA.

Offer fan-only enticements. These can range from exclusive product previews to discounts.

Use your page to promote your other channels. Allow fans to opt in to your e-mail newsletters with a button right on your Facebook page. Include links to your Twitter feed and YouTube channel — the more the merrier. By the same token, use your other channels to promote your Facebook page. Include a button on your outbound e-mails. Let recipients of your print catalog know what your Facebook page offers.

Measure the engagement of your fans. In addition to tracking how many people click the "like" button, measure how many post comments, click through on links, share content and take any other actions.
"Make sure that customer complaints are logged," says Smith, "and track if you are getting better at managing customer care, constantly increasing customer satisfaction and advocacy." — SC