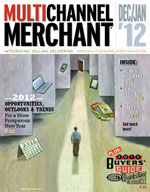 There are four main strategies that create successful front covers – those that grab the recipient's attention and get opened. They are: relevance, emotion, drama and differentiaton.
Checking my mailbox over the past couple of weeks has actually been somewhat disappointing – where is all the excitement? I did manage to find a handful of catalogs that stand out because they're doing a good job on their cover.
Relevance
King Arthur Flour – Many smart companies realize that the customer needs to see the end benefit, more than the product that is being sold. King Arthur knows this and features beautifully finished "cookie swap" cookies on their cover. It's relevant and appealing.
Frontgate Christmas – Leave it to Frontgate to have a tree on its front cover that looks like it belongs at the Hearst Castle in San Simeon! Their customer can relate to this aspirational tree and its environment.
Emotion
World Vision – This shot just grabs you. The girl's tender smile and the baby goat she is holding is so intriguing, you just want to find out what it's about.
Lands' End – Lands' End knows a secret: if you can make someone smile, you'll make them more receptive. The "people tower" does just that AND manages to features product on the front cover. It is seasonally appropriate and reflects a core value: family.
Drama
Here's an example of three catalog covers that take the same seasonal subject matter and treat it differently, for three different levels of impact:
Sur la table (Table setting) GOOD
Sur la table (Turkey in roasting pan) BETTER
Williams Sonoma Thanksgiving BEST
Look at how the dramatic treatment of the Williams Sonoma catalog causes the catalog to stand out among similar covers. This was carefully planned and art directed. It takes into consideration the elements often needed for drama: close cropping, outstanding styling and superior photography.
Patagoia "Bitter Cold" – If you ever need to be reminded how cold it can get, this photo is sure to send shivers down your spine! It's enough to convince anyone that if Patagonia clothing is built to withstand that temperature, then meeting our everyday needs would be a cakewalk.
Differentiation

J Peterman Company – This topiary dress is unexpected and unique. It also puts a smile on your face! It's seasonally relevant and an interpretation of the brand's use of illustration.
CHEFS – FREE SHIPPING cover. There is often no better motivator to a good customer than a threat! CHEFS doesn't garble or subdue the message and I bet they get a lot of response from this cover (they use it all the time and it got me to order!)