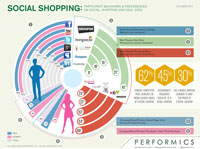 Men are more likely than women to conduct five of six social shopping activities, according to the 2011 Social Shopping Study conducted by ROI Research for performance marketing agency Performics.
Contradicting commonly held beliefs about gender and social behaviors, the study showed men more frequently research product information, read reviews, compare products, find product availability and get store information via social networks, shopping and deal sites; while women reign supreme when searching for deals, coupons and specials on similar sites.
"Women are reported to control about 80% of household spending, so it may be surprising for some to see men play a more dominant role in the social shopping and research process," said Dana Todd, senior vice president of marketing and business development for Performics, in a statement.
The study also revealed that active social networkers most often turn to shopping sites like Amazon, eBay or brand websites to begin the purchase process when searching for a product (87%) and right before they commit to a purchase (83%). They are more likely to turn to social networks such as Facebook immediately after the purchase to share their experience (59%).
Online activity while shopping in-store is also gaining popularity. Many respondents said they occasionally or frequently conduct in-store social (20–50%) or search (18–62%) activities.
According to the results:62% said they conduct competitive price searches while in a retail location
45% check-in at a store, 41% use a search engine on their mobile phone to look for information
30% use a barcode scanner on their mobile phone to shop for prices
25% pause while at a physical location prior to finalizing a purchase in order to seek advice on a social network
41% said they wait between five and 10 minutes for advice on social sites before proceeding with their purchase.