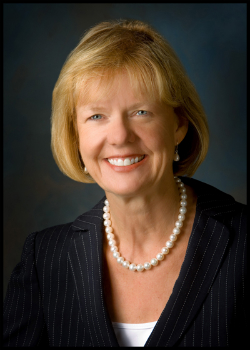 Susan M. Plonkey was named new acting president, mailing and shipping services, for the U.S. Postal Service on June 3. Plonkey succeeds Robert F. Bernstock, who left the USPS to pursue interests in the private sector.
Plonkey, who most recently served as vice president of sales for the USPS, is now responsible for all product management, product development, retail and commercial products and services, as well as commercial sales.
MULTICHANNEL MERCHANT senior writer Jim Tierney talked with Plonkey about her new position and plans to fix what's ailing the USPS.
Q: What do you view as your biggest and immediate challenges, given the massive decline in mail volume?
A: The plain fact of the matter is our business model is broken, and the laws, regulations, and contracts must be changed to reflect reality in the marketplace. The most immediate challenge facing the Postal Service is avoiding potential insolvency.
Despite aggressive cost reductions of over $1 billion every year since 2001, including $6.1 billion savings in 2009 alone, these efforts have not been sufficient to counter marketplace forces in the business of mail. A loss of $1.9 billion was reported for the six-month period ending March 31, and without fundamental structural changes to our business model, cumulative losses could reach more than $238 billion by 2020.
To ensure a viable Postal Service, we are continuing to work with all stakeholders to implement an ambitious, but achievable action plan. While there is no one single solution or quick fix that will resolve the current set of challenges which confront the USPS, the action plan contains steps available under current law that would reduce the projected gap by $123 billion by 2020.
To close the remaining projected gap of $115 billion over the next 10 years without cost to U.S. taxpayers, the Postal Service will require legislative and regulatory changes that will provide greater speed and flexibility to respond to marketplace dynamics.
Q: How can the USPS grow volume?
A: It really comes down to customer engagement and working with key stakeholders in the industry. We're engaged in marketing activities that demonstrate how mailers can harness the power of mail with the power of the Internet.
The two marketing channels are complementary to one another in terms of building new business and strengthening customer loyalty, and when you add the Intelligent Mail barcode to the mix, you have access to a tremendous amount of customer data to support current and future marketing efforts.
Product development is another key strategy for growing mailing services and shipping services volumes. We will continue to introduce new and innovative products and services that meet the needs and expectations of customers and offer a compelling overall value in the marketplace.
We recently established a single shipping services team to drive volume and revenue growth, and created a product visibility and operational performance team in order to develop world-class technology-driven solutions for customers.
Q: What types of USPS products have the most potential to add volume to the mailstream?
A: We see both direct mail and shipping services as the primary areas of volume growth going forward. As the economy continues to recover from the recession, both these product and service lines are well positioned in the market, particularly from a value and cost proposition. Nothing delivers for marketers like direct mail, and no one can match our access to the American household.
The Priority Mail Flat Rate Box ad campaign has been a hit with both business mailers and consumers, and has delivered double-digit volume growth, while our Parcel Select and Parcel Return Service continue to be the products of choice among reshippers and competitors alike. Our global shipping business is also poised for volume growth, so we're expecting big things for both inbound and outbound international shipping volumes.
Q: Bob Bernstock had worked closely with Hamilton Davison, the executive director of the American Catalog Mailers Association. What role do you see catalogs playing and could there be incentives—such as for prospecting—to assist catalogers?
A: The USPS and the ACMA will continue to work together to find solutions to our mutual challenges. We have made progress in the past two years, assembling a dedicated postal team to focus on the needs of the catalog industry and collaborating together to find both short-term and long-term strategies for growth.
The catalog industry as a whole is an important segment of our business and we will continue to look for the right mix of pricing, incentives, and cost-saving initiatives that provide a win-win for the industry and the Postal Service.
Q: At the ACMA's National Catalog Forum in April, there was talk of identifying catalogs and managing them as a single product. Do you think this can happen?
A: We are continuing to move toward developing a way to clearly identify, track and measure catalog volume. We see a need to better reflect in our systems the way mailers are using our products. Catalogs are a primarily a mix of carrier route and Standard Flats, with some bound printed matter and slim-jims (Standard Letters).
We have collaboratively developed a working definition of a catalog and plan to introduce a new entry on the mailing statements in 2011 that clearly identifies catalog volume within our financial systems. This will provide a first step toward any future product, pricing, and incentive enhancements.