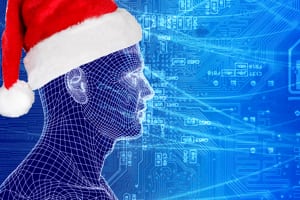 In-store purchasing is on the rise. A 2014 retail survey from Accenture reveals that one in five U.S. shoppers plan to increase their in-store purchases, up from 2013.
As multichannel retailers develop strategies for the upcoming holiday rush, they must address a critical blind spot by improving visibility into consumer behavior in physical stores. Fortunately, new technology solutions can help organizations close the "insight gap" between online and in-store consumer behavior.
Expand Your Range of Knowledge
To stay competitive, retailers must obtain similar levels of insight in brick-and-mortar environments that they have for their ecommerce business, especially during the busy holiday shopping season when consumers flock to stores. This requires more than basic point-of-sale (POS) metrics. Retailers need to cast a wider net.
Retailers should have technologies in place to capture real-time metrics about how many shoppers enter and exit, the paths shoppers follow through the store, which displays they stop to shop at, how long they wait in line at registers, and demographics such as whether customers shop alone, with children, or with a group. They also need store data about shopper behavior to measure the effectiveness of their marketing campaigns and to understand multi-channel shoppers.
These metrics are essential for understanding store performance and for improving decision-making about staffing, inventory, and marketing.
Know What to Measure
Retailers should also think carefully about what measures deliver the most valuable insight about the situation in the store, as some metrics can be misleading.
A good example of this is average wait time. If the average wait time doesn't exceed a pre-determined danger zone, the assumption is that most customers are getting good service. But what if an acceptable average is made up of two sets of shoppers – 50 percent who wait hardly at all and 50 percent who wait too long? Capturing information about individual wait times is the only way to pinpoint the actual consumer experience. No retailer wants customers to have check out experiences that may lead to frustration, bad reviews, and dumped carts. So masking the actual experience by averaging many experiences is not helpful to retailers.
With appropriate technology and a clear strategy for which key performance indicators (KPIs) to measure, retailers can better understand individual consumer experiences and discern patterns to help them increase customer satisfaction, improve business processes, and drive positive brand perception, during the holidays and year round.
Deploy the Right Technology
Today there are a number technologies are available to help retailers collect and analyze in-store customer behavior data. The capabilities of these offerings vary. Retailers should carefully evaluate solution capabilities and features before deciding which technology to deploy. Above all, an ability to capture accurate data is key.
Real world environments introduce more variables than virtual ones. An in-store analytics solution should be accurate enough to differentiate between adults and children, and between people and objects. It should be able to distinguish whether a shopper is exiting or entering a retail location and accurately track a person's path through the store. And it should respect consumer privacy by gathering these metrics anonymously. Good data leads to good decisions.
An in-store analytics system should also be able to integrate with existing information systems, including workforce management and other enterprise systems. This is crucial for understanding how in-store consumer behavior fits within the broader context of multichannel retail initiatives.
Close the Insight Gap
In-store analytics support intelligent decision-making and make it possible for retailers to close the insight gap that often exists between their brick-and-mortar and online channels. With the holiday rush fast approaching, now is the time to address this critical blind spot by improving visibility into consumer behavior in retail's largest and more profitable channel.
Ralph Crabtree is CTO and co-founder of in-store analytics firm Brickstream.