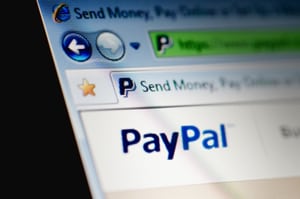 The global marketplace eBay has released its fourth quarter results and not only did it report a 13% increase sales, but it also declined a proposal to spin-off its payment program, PayPal.
Mobile was a major factor in the increase in sales, according to a statement from CEO and President, John Donahoe, mobile commerce grew by 88%, reaching $22 billion. "Mobile exceeded our expectations for the year," he said.
PayPal also delivered a strong performance.  According to the release, revenue increased 19% in both the quarter and the year, which resulted in $6.6 billion in 2013. PayPal also gained 5.2 million active registered accounts in the quarter and ended the year with 143 million, according to the release.
"PayPal and eBay together create an incredibly strong global commerce ecosystem for consumers and merchants, and we continue to see tremendous growth opportunities ahead," Donahoe said.
PayPal is doing so well, it was approached by investor Carl Icahn to spin-off its PayPal business. Ebay knocked down in a separate statement released by eBay, stating "eBay's Board of Directors has concluded that the company and its shareholders are best served by the current strategic direction of the company and does not believe that breaking up the company is the best way to maximize shareholder value," according to the release.
In a post on eBay's own blog, the marketplace explained further why a spin-off could not happen at this moment. "PayPal is successful precisely because we are part of eBay Inc., not in spite of it. eBay Inc. has helped drive our success for more than a decade, and we continue to believe we're far more valuable together.," the post states.
The post went on to explain that PayPal has "access to an enormously valuable global customer base, it provides a source of low-cost capital that lets us aggressively fund growth and innovation in areas such as mobile and credit."
"And being part of eBay Inc. enables us to broadly leverage the company's technology capabilities, data, commerce platforms and relationships with retailers, brands and large merchants worldwide."
Erin Lynch is the senior content producer at Multichannel Merchant. Erin can be reached (203) 899-8461 or connect with her socially on Twitter, Google+, and LinkedIn.