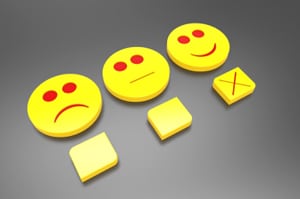 Days after Valentine's Day, 1-800-Flowers found itself still trying to make amends with customers whose flower and candy never arrived as promised. The company suffered another black mark when already-frustrated customers were unable to get through to the company for answers, making a bad customer experience even worse.
Sadly, this felt like more of the same for consumers who were still reeling from a Christmas where missing and delayed gifts made big headlines. Major carriers acknowledged that some packages guaranteed for Christmas Eve delivery did not arrive at their destinations on time, blaming delays on overloaded systems and bad weather.
These recent logistical snafus are a costly reminder that the customer experience doesn't end when customers click on the 'buy' button. When it comes to online shopping, retailers can't simply hand merchandise over the counter and call the sale done. Their goods need to be packed, shipped and delivered – usually by a middleman – across city or state lines and to their customers' doorsteps.
And failing to fulfill customers' orders in a timely fashion spells disaster for retailers of any size. Delivering products late can kill sales, batter your reputation and destroy customer loyalty. It can also squander all of the time, money and resources you spent acquiring new customers.
The last mile – the final leg of delivering consumer products to the home – is arguably the most crucial component of any e-commerce venture today, and quite possibly the industry's largest obstacle to sustained growth. The hard truth is that, despite consumers professing their love for shopping from their computers and mobile devices, e-commerce remains a small fraction of the overall retail sector, barely cracking double digits. IBM's recently released 2013 Holiday Analytics Digital Benchmark puts online sales growth at just 10.3% for the fourth quarter, which is short of what many projected and suggests a market that's starting to plateau searching for its next great growth accelerator. That last mile is where online businesses can gain an edge against their competition and traditional retailers alike. Etailers can gain (or lose) major ground in their ongoing battle against their brick-and-mortar cousins.
Amazon and other customer experience innovators recognize the power that comes with owning the last mile, and a fierce battle is brewing as they institute new strategies, processes and technologies to deliver products faster and with greater reliability. Amazon has spent billions in the past few years setting up more than 50 fulfillment centers in some of the largest metropolitan areas in a bid to close the distance gap between center and doorstep and make same-day delivery a reality. And let's not get started on the drones.
As Amazon evolves its same-day delivery service, it could feasibly complement or eradicate its existing carrier relationships by rolling out its own transportation fleet. Much of the infrastructure is already in place, and it would give Amazon the sought-after final link between purchase and the customer.
EBay and Google are trying to one-up Amazon with new delivery services that leverage local store inventory. For its eBay Now service, eBay partners with local retailers like Target and Toys "R" Us, which serve as distribution centers. It employs "valets" who are dispatched to shop for the items on a customer's list and deliver them to their doorstep within an hour. Google's shopping service operates in much the same way. Although these services are fast out of the gate, there are major concerns about the ability to scale and turn a profit with such a labor-intensive approach. As Forrester analyst Sucharita Mulpuru aptly frames it, "It is an H.R. issue, not a tech issue."
In a bid to recoup some market share from Amazon, traditional retailers like Walmart are taking an omnichannel approach whereby consumers can shop online and pickup their merchandise in the store on the same day. The company has gone so far as to institute a locker service in many of its stores to facilitate in-store fulfillment. Considering that two-thirds of Americans live within five miles of a Walmart, it could potentially have the biggest distribution network of all.
The future requires an exceptional customer experience from first click through delivery. Even if you're not positioned to own the last mile, there are some steps that you can take to ensure any glitches in your fulfillment process do not cost you a new or repeat customer. Above all, remain transparent. Give your customers radical transparency into the status of their order and notify them immediately of any hold-ups, complete with an explanation. You'll find they'll be more willing to forgive delays if they know what's going on. Remember not to finger-point at the delivery service because, to your customers, there's no difference between you and the service that drops their goods at the door.
Who do you think will win out in the race for last-mile domination? Is Amazon a given or will Walmart or eBay show up as strong contenders?
Jonathan Levitt is Chief Marketing Officer at OpinionLab.