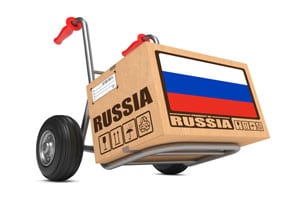 Hermes, operator of the largest 2C parcel shop network in Europe, announces new actions to strengthen its parcel business in Russia.
As part of its overall European expansion strategy, the retail and logistics services provider has acquired the 49 percent share held by DPD in Hermes-DPD Russia. Hermes is now the sole stakeholder, and the business will operate under the name Hermes Russia. Under the terms of the agreement, DPD will continue to handle logistics transport services in Russia.
For Hermes, the acquisition accelerates efforts to integrate operations with Hermes' Continental Parcel Network, which specializes in deliveries to private customers. In the coming years, Hermes Russia will further develop its parcel shop infrastructure and establish itself as a partner for distance sellers in the booming e-commerce market. Notably, in 2014 over 75 million Russians shopped online, spending more than $18.5 billion USD (per East-West Digital News) – a growth of 15 percent year on year.
Hermes began positioning itself in the Russian market in 2010 as a provider of delivery services for both business and private customers. Currently, Hermes operates more than 400 parcel shops there, with 125 located in main cities. Approximately 100 are situated in the metropolitan area of Moscow. Hermes also operates east of the Urals, in the Asian part of Russia, with parcel shops in major cities such as Yekaterinburg, Novosibirsk, Krasnoyarsk, Omsk and Vladivostok. In the coming months, the number of pick-up/drop-off points will increase rapidly.
Marc Dessing, Chief Operating Officer of Hermes Europe, explained, "As the largest country in the world and as one of the fastest growing e-commerce markets, Russia occupies a central position in global trade. In view of our European expansion, we will be able to further develop the Russian parcel market with immediate effect on our own. For Hermes, Russia links Europe and Asia and enables us to better serve the spectrum of business interests there. So, our commitment here is a long-term one, as we strongly believe in positive Russian market development."
Beyond the acquisition and expansion, Hermes is increasing collaboration with domestic retailers. It also is holding talks with potential e-commerce, fashion and consumer electronics partners interested in the returns service Hermes introduced in 2014. In addition, Hermes is working with a variety of distance sellers looking to take advantage of its cross-border parcel network to Western Europe and its 36,000 parcel shops.
About Hermes
Hermes provides international logistics services to the retail industry. Headquartered in Hamburg, it is a wholly-owned subsidiary of the Otto Group. The company is a leading specialist in retail-related services and partners with numerous distance sellers in Germany and internationally. The range of services provided by the twelve Hermes companies embraces the full length of the supply chain: sourcing, quality assurance, transport, fulfillment, home deliveries and setup. In 2014, the Hermes Group grew its consolidated revenue to 2.230 billion euros and increased the number of employees to 12,470. Hermes operates worldwide and has established entities in the United Kingdom, United States, China, Russia, Italy and Austria. For further information, please visit www.newsroom.hermesworld.com.