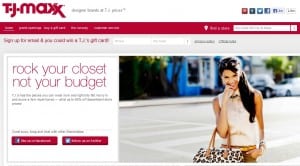 While TJ Maxx is staying mum, several media outlets have reported that the discount retailer is planning an ecommerce launch by the end of 2013. While it is now common place for most retailers to have an online store, TJ Maxx might have a tough road ahead, according to ecommerce insiders.
This isn't the first time TJ Maxx attempted to get into the ecommerce arena, according to CNBC; a site was launched in 2005 but failed due to "poor sales, turmoil in the corner office, and challenges at its smaller chains." The failed 2005 ecommerce site, according to CNBC, cost TJ Maxx $15 million.
However, the reinvention of the TJ Maxx ecommerce site can become a success, according to Fiona Dias, chief strategy officer with ShopRunner, as long as they keep track of the inventory on hand and what is truly offered online.
"The challenge will be to present the merchandise in a way that's attractive online, and not the haphazard presentation that they do in stores today. Frankly, the online experience might actually be superior to the store experience by being less of a treasure hunt," Dias wrote in an email.
"It's likely that TJ Maxx will present [a] limited assortment online and add more with time once they get comfortable that they have a handle on inventory," Dias said.
Descriptive product information could help make searching for a specific item online a snap, according to Maria Haggerty, owner of Dotcom Distribution, "Robust search features could actually make off price shopping online more streamlined and efficient. The customer would only have to look through what would actually fit them as opposed to having to sift through a pile of clothes."
When asked if there was potential for TJ Maxx to focus on omnichannel fulfillment, Dias said she believed there would be hurdles with ship-from-store. "Few retailers have that capability, least of all off-priced retailers, where keeping track of every piece of store inventory has not been a high priority. And as inventory can move very fast in off-priced retailers (smaller lots), it's even more challenging to have accurate store level inventory."
As for ship-to-store, buy online and return in store, Dias said there is a "higher likelihood" that the retailer could make it a reality down the road but not anytime soon because store procedures need to be created, changed, and addressed and store associates need to be trained to handle the new fulfillment options.
"This takes time, and is probably not something to expect in the next couple of years," Dias said.
But according to Haggerty, omnichannel fulfillment could be what sets TJ Maxx online apart from other discounted retailers. "It may be expensive to handle and ship heavily discounted purchases, but if ecommerce is used to expand the overall customer relationship and increase lifetime value, ecommerce could be a big win overall for off price retailers."