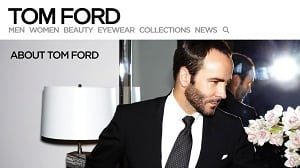 Designer Tom Ford has just launched a new ecommerce site which offers same-day delivery to New York City area fashionistas.
Ford told Elle magazine recently that the need for the ecommerce site was due in large part to an already established offline brand. "We now have 98 retail locations worldwide and the online store is an extension of them," Ford said.
Tom Ford is also offering a wide variety of fulfillment options with the ecommerce launch. Customers nationwide looking to place orders before 2 p.m. can have orders shipped express/second-day for a $20 fee or overnight for a $35 fee. Consumers in the Manhattan area could opt for same-day delivery for orders placed before noon for a fee of $35.
While there is no mention on TomFord.com, Elle magazine states omnichannel fulfillment is coming to Tom Ford in the near future as shoppers will soon be able to "order whatever they want and pick it up in store."
Erin Lynch is the senior content producer at Multichannel Merchant. Erin can be reached (203) 899-8461 or connect with her socially on Twitter, Google+, and LinkedIn.