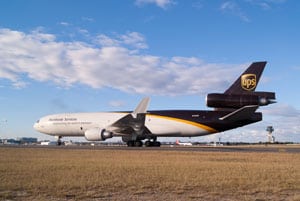 UPS announced this week that it has opened a $200 million expansion of its European air hub facility at the Cologne/Bonn Airport in Germany. This facility is one of the largest investments in the shipping titan's history.
The expansion, according to UPS, took two years to construct and is the equivalent of 15 football fields or 1,130,000 square feet of sorting space. It also includes the addition of eight automated sorters which will now increase the hub's package sorting capacity to 190,000 packages sorted per hour or 53 packages per second.
UPS said the new conveyor system now covers a distance of about 25 miles; giving a package about 15 minutes of travel time in order to move through the hub from unload to load point.
Cindy Miller, President, UPS Europe, said in the release that UPS's Cologne/Bonn air hub is "the centerpiece of the company's European express network" and "a key component of UPS's global air operations."
"Our strategic investment in Germany, one of the world's top exporters, underscores our commitment to the European economy," Miller said.
"This is part of a long-term strategy to help our customers successfully compete and do business on the important trading lanes within Europe and linking Europe to North America and Asia," she said.
This announcement came just a few days after UPS also announced that it opened a new package sorting and delivery facility in Laredo, Texas in order to improve its cross-border shipping strategies to Mexico.
Erin Lynch is the senior content producer at Multichannel Merchant. Erin can be reached (203) 899-8461 or connect with her socially on Twitter, Google+, and LinkedIn.