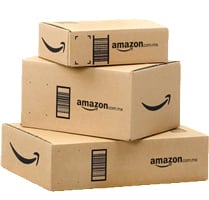 Building on the success of the Kindle Store that opened for Mexican customers in 2013, Amazon.com has launched its physical goods store on Amazon.com.mx, a Spanish-language website with millions of unique items available for customers in Mexico.
"Our mission at Amazon is to be Earth's most customer centric company, and we strive to be the destination where people can find anything they want to buy online," said Alexandre Gagnon, Director, International Expansion, Amazon. "With Amazon.com.mx, customers in Mexico will find more of what they want – the largest selection in the country, low prices, fast and reliable delivery, all with a trusted and convenient experience."
Beginning with more categories than any other international Amazon website has featured at launch, Amazon.com.mx offers a vast selection of products at low prices in Consumer Electronics, Kitchen & Home, Sports & Outdoors, Tools & Home Improvement, Baby, Health & Personal Care, Watches, Books, Music, DVD, Video Games and Software. Consumers receive free shipping on orders above MXN 599 that are fulfilled by Amazon.
Retailers can ship Amazon Mexico orders from their own distribution center or use Fulfillment by Amazon. Retailers and branded manufacturers using FBA for Amazon Mexico orders are required to import their products to an Amazon Fulfillment Center located in Mexico for storage and local fulfillment. When using FBA, Amazon will provide 24-hour, local language customer support on behalf of the retailer.
The ecommerce market in Mexico grew 32% in 2014, and its double-digit growth is expected to continue to a 30 percent increase in 2015, according to data compiled by eMarketer.
"Through the development of its fulfillment network, Amazon has simplified the logistics of selling internationally. Amazon's extensive catalog and expertise in ecommerce will likely resonate well in Mexico, and we see this as a great opportunity for retailers and branded manufacturers to enter this market," said Scot Wingo, executive chairman of ChannelAdvisor.
In a separate announcement, ChannelAdvisor said announced it is helping its customers expand their international reach through its support of Amazon Mexico.