When discussing the Harry & David catalogs, people immediately rave about the fabulous photography. But it takes more than pretty, or even mouth-wateringly luscious pictures to win an MCM Award. Harry & David's Holiday Gift Collection 2009 earned its Gold Award in the Food/Gifts, Sales Over $20 Million Print category by juxtaposing great photos with a broad range of products and stellar service offerings.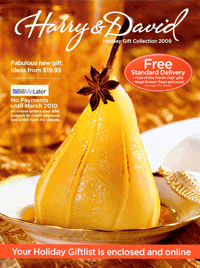 Why it won a Gold Award
At its core, food is a commodity. But Harry & David bundles and packages its food gifts to ensure that they're perceived as high-value, distinctive items.
From the Cheesecake Party Wheel ("We've reinvented the wheel: four rapturous new flavors") to the spruce tree adorned with teddy bears to the combination packages (Champagne & Chocolate; Pears, Stilton & Walnuts; Wreath of Fruit; Smorgasbox), Harry & David has put its imprimatur on them all. As one judge said, the merchant has created "a wonderful selection of merchandise that continues to excite time and again."
The diversity of the product offering was matched by the range of pricing, from $19.95 to just shy of $300. Callouts throughout the catalog ("3 choices & prices"; "Favorite gift boxes—you size, your price") emphasized this diversity.
Panelists also lauded the catalog's focus on value, which is especially important in a tough economy. Throughout the book were free shipping offers, volume discounts, and headlines such as "You won't taste finer chocolates at any price." Said a judge, "There were many, many marketing promotions, well written and used on every spread."
Harry & David excelled at promoting its customer service as well as its products. It spotlighted what it dubbed "the strongest guarantee in the business" on the inside front cover and its acceptance of BillMeLater payments on the front cover.
Order cut-off dates for Thanksgiving, Hanukkah, Christmas, and New Year's Eve for each of the four delivery methods were spelled out clearly on the center spread, and the order form made it simple to send gifts to multiple addresses.
"This catalog stayed true to its brand yet stressed value at every opportunity and had unbelievable results," concluded one judge. Another judge put it even more succinctly: "This is a poster child for excellence."
Ideal to steal
For repeat customers, Harry & David included a list of what they had ordered for whom the previous year. It also makes this list available on its Website. It's a great way of reminding consumers of their (presumably) satisfactory prior experiences with the brand while serving as a helpful tool for harried holiday shoppers.