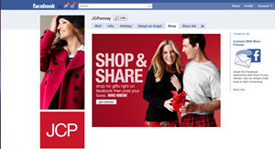 Making good on its strategy to focus on ecommerce vs. print catalogs, J.C. Penney on Dec. 14 opened a web store on Facebook. The fully integrated Facebook e-commerce application, powered by Usablenet's platform, means users don't have to leave the social network site to shop at J.C. Penney.
The new application supports a full e-commerce experience within the Facebook page, including such function as add to cart, checkout, edit and remove products from cart, specify shipping address, ship to store, and pay with credit card. J.C. Penney spokesperson Kate Coultas says the general merchant's full website assortment is available through the company's Facebook page.
What's more, Facebook users can "like" and share J.C. Penney items and purchases with their friends. According to Tom Nealon, group executive vice president for J.C. Penney, the company's Facebook page at press time had 1.3 million friends.
J.C. Penney's move to enable customers to shop online through its Facebook page comes a year after halting its Big Book, and three months after it announced it would stop mailing specialty books next year.
(The retailer will distribute "look book" catalogs designed primarily to drive customers to Penney's website to shop.)
Neil Stern, a retail analyst and senior partner for retail consultancy McMillan Doolittle, says "there's no question that J.C. Penney's target customer is very engaged in Facebook, so it makes a lot of sense to meet her there. We are at the infancy of how social media and mobile media will be used as selling tools. We would definitely expect other retailers to quickly follow suit."