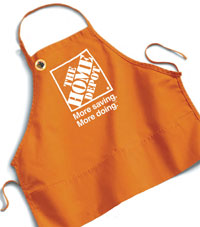 Baltimore–The Home Depot's e-commerce site was not built in a day. And when Michael Cooper took over last year as the home improvement merchant's vice president-specialty channels, he knew that rebuilding its e-commerce site would also take more than a day.
And to make The Home Depot's e-commerce site a part of a multichannel retail machine, well, that's really going to take some time, Cooper said during a keynote speech Tuesday at eTail 2009 in Baltimore.
"We're going to come into the '90s, allow returns in the stores, and allow store gift cards to be used as tender online," Cooper said lightheartedly before he explained why the project is going to take some time.
"It will require modification of 15 legacy systems," Cooper noted. "And that goes all the way down to the store's POS systems. But the more we can convince the powers that be that the multichannel shopper is more valuable than the store shopper, the easier it will be to get the job done."
How's that coming along? Better than you might think. Back in 2007, Home Depot considered outsourcing its Web channel.
But today, "we're sitting here with the CFO, CIO and all the EVPs and opening the discussions about what we can do," Cooper said. "That for me is a big step forward."
And Home Depot CEO Frank Blake is completely behind the mission.
"[Blake] says that if there's anything we screwed up in 2007 it's our e-commerce channel," Cooper said. "He says that 10 years from now, experts are look back and hope we figured out how to fix it. That gives me a clear understanding that he knows the importance of the channel."
As part of the e-commerce turnaround, Cooper has defined three roles for HomeDepot.com.
Media channel. HomeDepot.com needs to relay the same message across e-commerce as it does in its other forms of communication, such as broadcast and print advertisements.
"Digital Orange Apron." The site needs to continue to be a how-to destination for do-it-yourselfers who have a question about a repair or remodeling job.
E-commerce. The more Cooper can build the online business, the more it will drive traffic to the stores. That can be done by keeping the customer in mind, but differentiating itself from its competition, he said.
For instance, Home Depot this past spring had an offer of free shipping on patio furniture ordered online. Though he didn't provide sales figures from the campaign, Cooper said it was a success: Buying bulky furniture in the store is a hassle for consumers that don't have big trucks to get it home with.
And to get the store-level employees on-board with the campaign, those online sales were credited to the store closest to the ship-to address.