Catalogers that sell children's products sometimes find themselves struggling to appeal to both the end users (the kids) and the folks footing the bill (the parents). The judges felt that with its Back to School 2009 edition, L.L. Bean managed that feat masterfully enough to win a Silver MCM Award in the Children's Products Print category.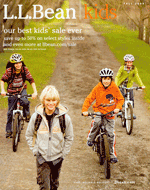 Why it won a Silver Award
"L.L. Bean Makes Shopping Easy" reads a headline on the center-spread customer service pages, and the panelists agreed. One judge praised Bean for including a genuine order form in the catalog: "You don't have to call for one or print one off the Website." Others applauded the wealth of information about sizes and monogramming and other personalization services, and that the guarantee was prominently featured up front.
Judges heaped kudos on the catalog's merchandising as well—not just the breadth and depth of the product selection but also how Bean cross-referenced, with page numbers, items shown in the lifestyle photography.
And let's not forget the copy. "Informative and evocative, highlighting benefit," noted a judge, pointing out descriptions like this one: "This everyday jacket has the details girls love, with the durable construction parents appreciate. Made of soft cotton canvas that's washed for lived-in comfort from the start. Princess seams give the zip-front style a flattering silhouette…"
The headlines, like the product descriptions, addressed the needs of both parent and child: "Great ready for winter fun. Shop early and save"; "Go from parties to playdates with ease"; "Warm layers for season after season of fun." As one judge put it, "It's the best copy in the business."
Why it didn't win a Gold Award
Several judges felt that the book didn't flow as well as it should have because there was a discrepancy in the style of the page layouts. Few of the spreads seemed to have actually been designed as spreads rather than as distinct pages.
"Some pages seem to belong to one book, and some to another," said a panelist. Another felt that on certain pages "there was too much 'stuff.' Eyeflow is getting difficult."