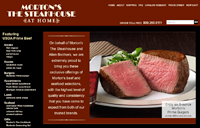 If you have a hankering for Morton's but you don't live near one of the famed steakhouse's locations, fear not: Morton's is going direct.
Morton's Restaurant Group yesterday announced the launch of its Morton's The Steakhouse At Home catalog and Website (www.mortons.allenbrothers.com), showcasing its world-famous steaks and seafood.
The company, which owns and operates 77 Morton's steakhouses in 65 cities in 27 states and in Puerto Rico (plus six international locations and two Italian restaurants), is partnering with prime beef supplier/cataloger Allen Bros. on the venture.
The 16-page catalog is mailing/e-mailing this week to more than 750,000 customers of Morton's and Allen Bros., according to Roger Drake, chief communications officer for Morton's Restaurant Group. Allen Bros. is doing a direct mail distribution to its database and Morton's is e-blasting to its database. Allen Bros. is handling the fulfillment.
The joint venture makes it easier for customers all over the world to enjoy both brands. "Customers can buy from the Website, a print catalog, or order through an 800-number," Drake says. "Allen Brothers has the same focus on quality as we do. It's great to be able to partner with someone we trust and who is interested in top quality."
What prompted the partnership? "We're looking for different ways introduce ourselves to new audiences," Drake says. "A lot of our guests around the world may not have a Morton's in their city. Now items can be delivered to their door and they can create the Morton's experience at home."
In addition to gourmet meats, the catalog also includes gift items such as Morton's The Cookbook, Morton's Steak Bible, the iconic Morton's Pewter Pig Lamp, custom-crafted Morton's steak knives and Morton's Grilling and Cajun Seasonings.