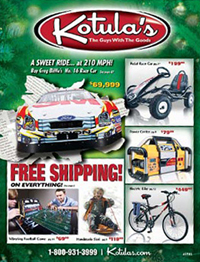 Looking for an underwater camera mask, a keg-o-rator, a retro vending machine or a circus popcorn cart? Try Kotula's, a new gadgets print catalog and Website from multichannel merchant Northern Tool & Equipment.
The 68-page catalog, named after company founder/CEO Don Kotula, first mailed in August. A second holiday book dropped to about 2.5 million names in November — about half of which were prospects. The plan is to mail it out quarterly, says director of database and new catalog marketing Jon Thorsen.
Many Kotula's products have appeared in Northern Tool's master catalog over the years. While the items didn't fit in with the Northern brand, "all the guys who buy from us are really interested in these gadgety type products," Thorsen says.
Northern Tool has been mailing catalogs since 1981; about 60% of its nearly $1 billion in annual sales comes from its print catalog. The company also operates 65 stores in the Southeast.
Thorsen admits that it's not the best time to launch a catalog. "But we've actually been doing pretty well — we've been happy with the sales we've had so far," he notes.
It helps that Kotula's has been generating some buzz in the media. For example, one of its products, the "flair hair visor" (a visor with fake hair), was recently shown on The Tonight Show.
Sales of the visor also took off after it was voted up on the front page of social news site Reddit.com. "We had like 10 times our normal Web traffic that day," Thorsen says.