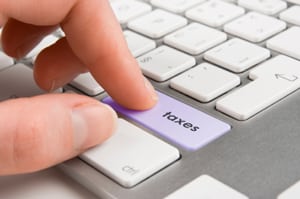 The Senate has approved the long-anticipated internet sales tax proposal, which would require shoppers to pay sales tax for most of their online purchases, in a 69 to 27 vote. The legislation is now heading to the House of Representatives for a final vote before it can become law.
The proposal, also known as the Marketplace Fairness Act, "would allow the 45 states (and the District of Columbia) that currently charge sales taxes to require large online retailers to collect tax on purchases made by their residents. The law would only apply to online sellers that have sales of at least $1 million in states where they don't have physical operations, like a store or a warehouse," according to CNN.
If the bill eventually becomes law, CNN said, studies have found it would collect $12 billion in additional sales tax from online purchases every year.
The National Retail Federation's president and CEO Matthew Shay issued a statement immediately following the Senate vote in which he applauded many senators for approving the proposal.
"Today's action in the Senate is a significant step for sales tax fairness and we look forward to a robust debate in the U.S. House of Representatives," Shay said.
Shay also said, "This bill and its companion in the House will level the playing field for all retailers – both online and off – while safeguarding states' rights. And the bill does it all without raising taxes, new government mandates or adding to the deficit."
But not all retailers are happy with the Senate's decision. Brian Bieron, Senior Director of Global Public Policy at eBay Inc., issued the following statement in response to the approval of the Marketplace Fairness Act:
"The contentious debate in the Senate shows that a lot more work needs to be done to get the Internet sales tax issue right, including ensuring that small businesses using the Internet are protected from new burdens that harm their ability to compete and grow. eBay will continue to focus on bringing greater balance to the legislation by protecting small businesses with less than $10 million in sales or fewer than 50 employees."