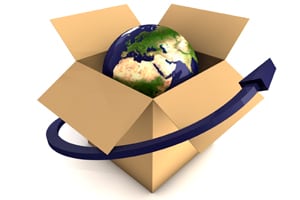 New research from PayPal and Ipsos shows that cross-border trade is a driving force of the global marketplace, with cross-border shoppers (those for whom more than 10% of their online spend is cross-border), spending approximately twice as much as consumers who only shop domestically.
The research, which investigated the online and cross-border shopping habits of more than 17,500 consumers in 22 countries, also reveals opportunities and best practices for merchants who wish to grow their international business this December and beyond.
Who Is Buying Cross-Border?
Cross-border shopping is most prominent in Austria, where 83% of online consumers shop internationally, Israel (82%) and Australia (75%). Conversely, international shopping is relatively rare in China, where only 26% of online shoppers reported making international purchases, the United States (30%), and Poland (35%).
However, China may soon become a bigger market for international trade. Fifty-two percent of Chinese online consumers said they plan to begin shopping cross-border or increase their cross-border shopping in the next 12 months, giving China the third-largest projected growth, behind Mexico (59%) and Russia (54%).
What Shoppers Want and Where They Want it From
Clothing and footwear are the most sought-after goods for cross-border shoppers, representing 39% of online cross-border purchases. Additionally, it is consistently the dominant category across every individual region: North America (33%), Latin America (47%), Middle East (47%), Western Europe (33%), Nordics (36%), Central and Eastern Europe (50%) and Asia Pacific (43%).
There are wide regional variances regarding preferences beyond clothing and footwear. Overall, consumer electronics is the second most popular category, at 26% of all online cross-border purchases. However, it does not rank second in all regions. In Asia Pacific it ranks third, behind cosmetics and beauty products, in the Nordics it ranks fourth, behind physical entertainment (e.g. books, DVDs) and travel & transportation; and in North America, it ranks a distant fifth.
As for country of origin, U.S. and Chinese goods are the most popular overall, representing 26 and 18% of all online cross-border purchases, respectively. However, regional preferences vary. North America, Latin America, the Nordics and the Middle East all prefer American goods, while Western European cross-border shopping is dominated by German merchandise, and Central and Eastern European consumers most often purchase from China.
Free Shipping is the Key
Shipping cost is of paramount importance to cross-border shoppers. More than half (51%) of those who have shopped cross-borders in the past 12 months say that delivery costs prevent them from making purchases from another country more often. Similarly, 47% of all online shoppers say that free shipping would make them more likely to buy from another country and 51% of all adult internet users say that free shipping or postage for returns is a "must have."