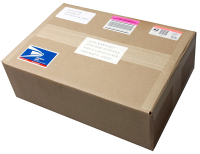 The U.S. Postal Service has announced its 2010 parcel rate shipping prices to take effect Jan. 4, coinciding with rate changes made by FedEx and United Parcel Service. The overall average price increase will be 3.3% for Priority Mail.
For Express Mail Commercial Base, the increase will be about 4.5%. But the USPS is actually decreasing the price of its domestic Priority Mail Flat Rate Envelope from $4.95 to $4.90, while the Priority Mail Small Flat Rate Box will stay at $4.95.
The real news is that USPS is offering several new products aimed at small–package shippers, including cubic volume-based pricing for large-volume commercial Priority Mail shippers and a Priority Mail half-pound price, based on distance, in the Commercial Plus pricing category.
The USPS's half-pound option will likely capture a lot of new interest, says Gerard Hempstead, president of Hempstead Consulting and a former vice president for DHL, "because an awful lot of 1-lb. shipments moving today weigh far less than 1 lb."
And the Postal Service's cubic volume-based pricing means customers who ship small dense, space-efficient packages will receive a financial incentive through a new, tiered pricing option. Hempstead says this new offering is the opposite of what the commercial carriers do, which is charge the higher of the actual weight or the cubic weight (L x W x H / 194). "The USPS is sharing its productivity improvement with incentive based lower pricing."
The USPS purchases containers on the FedEx network and it operates its own surface transportation network that has excess capacity on the trucks, Hempstead explains. As a result, the more weight USPS can get into a cubic foot, the lower its costs are going to be to transport and the better yield it will have.
The Postal Service is also offering a Priority Mail Flat Rate padded envelope just for Commercial Plus shippers. The 9-1/2" x 12-1/2" envelope is specially designed for jewelry, electronics and other delicate goods.
A complete listing of 2010 prices is available at http://pe.usps.com under the "Jan. 2010 Price Change" link. The new prices and product innovations are pending Postal Regulatory Commission review.
Now, Hempstead says, "We anxiously await the announcement of the UPS rates for 2010 to see how its pricing will stack up against the USPS. I suspect that everyone who ships 1-lb. parcels should be quickly analyzing their transactions to see if they can divert shipments from UPS ground residential to Priority Mail—and perhaps get a service upgrade to boot."
You have to know your shipping activity and set up your business rules to make sure you take advantage of the lowest possible rates, Hempstead says. And don't hesitate to call in your postal rep to get an analysis of your shipping: "They have tools to help you decide where they might be the best fit."