The marketing concept and merchandising niche of La Tienda are clear from the get-go: The catalog sells, as its tagline declares on the front cover, "the best of Spain"—Spanish food and cookery items. What's more, it establishes La Tienda as a source of information about Spanish cuisine as well as of products, and as one judge said, "It stays true to its brand from beginning to end." All these elements earned the catalog a Silver Award in the Food/Gifts, Sales Under $20 Million category.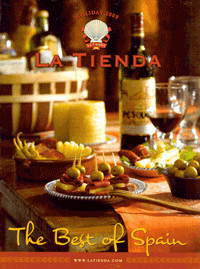 Why it won a Silver Award
The merchandising—hams, cheeses, olives, oils, beans, pitchers, pans, wineskins—garnered unanimous praise for its breadth of items and price points. "This appears to be a wonderful representation of popular food across Spain, along with a selection of utensils with which to prepare or serve it," summed up one judge. "For those who love Spain's cuisine, it's irresistible."
Not content to cater exclusively to those who already love Spanish food, however, La Tienda uses its product descriptions and editorial sidebars—about the curing of sausages, the differences between Spanish and South American tortillas, and the different types of ham, among other subjects—to try to win over converts.
"The copywriters help an American audience understand the food: its place of origin, its history, how it's made, etc.," said a panelist. "Knowing so much more about the food probably helps you feel better about spending so much on it. This education aspect really sets the copy apart, and it's done in such a way that you'd don't feel insulted if you already know about the food."
Why it didn't win a Gold Award
Although the panel felt most of the photography was enticing, some of the images were distractingly dark or blurry. One judge added of the front cover, "It has too many products out of focus. There's good representation of product, but you cannot see most of them well."