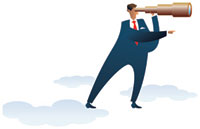 What can shippers expect from the parcel carriers in 2011 and beyond? Many signs point to higher pricing for shippers, however, shippers can also expect service and technology improvements in the coming year.
Here's our forecast of what's on the horizon at UPS and FedEx, and the implications for shippers.
EMPHASIS ON GLOBAL LOGISTICS
UPS's latest advertising campaign, UPS Loves Logistics, illustrates the strategy to market UPS as a global logistics company. The package delivery giant wants shippers to associate supply-chain services with the UPS brand.
Case in point: UPS can now transport your source materials in bulk to a UPS warehouse. UPS fulfillment centers will assemble your products and ship your packages worldwide. And through its UPS Capital division, UPS will finance your inventory.
Both FedEx and UPS have grown well beyond package delivery core competencies. They rank among the world's largest global logistics companies with services that now include truckload/less-than-truckload, ocean, export/import, brokerage, freight forwarding, air/ground, mail products, supply chain consulting, office and printing services, reverse logistics and more.
For the most part, however, both companies have maintained separate operating divisions. That will change in the coming months as the carriers will continue to align distinct business units for cross selling opportunities. The move will provide single-source convenience to customers while growing market share and profitability.
As an example, FedEx is combining its FedEx Freight and FedEx National LTL operations effective Jan. 30, in an effort to increase efficiencies and reduce operational costs. The combined entity, to be known as FedEx Freight, will be an overlay service to parcel. If you are a parcel shipper, your parcel rep will drive TL and LTL selling efforts, bringing in additional FedEx Freight resources as needed. If you have LTL business to give, expect a call from your parcel sales representative in the near future.
Many shippers are already realizing the benefits of single sourcing multiple logistics needs. As UPS and FedEx continue to market new services to customers, we expect this trend to continue.
NEW TECHNOLOGIES AND SERVICES
With the emphasis on global logistics, we expect the carriers to introduce new automation options. In particular, we anticipate the introduction of enabling technology for greater supply-chain integration between shippers and their manufacturers, suppliers, distributors and customers.
Five-year capital expenditures at UPS and FedEx are $2.5 billion and $2.7 billion, respectively, which demonstrates both carriers' reinvestment in infrastructure and technology. Shippers can look forward to expanded services and new technologies, including improved enterprise software, expanded tracking options, and additional real-time service options.
It's important to note that technology development was in large part purposed as a means to reduce operating costs. Examples include network optimization, improved data capture for enhanced invoicing, and efforts to increase fuel and driver efficiencies.
These efforts have not only led to lower operating costs, but also better service. Following years of continuous improvement programs, hub automation and routing enhancements, and fleet maintenance initiatives, on-time deliveries are at all-time highs.
FOCUS ON MARGIN IMPROVEMENT AND PROFITABILITY
While the carriers are enjoying renewed vigor in 2010, the past two years were troubled times. The economy was in a tailspin, UPS and FedEx stock values hit new lows, margins eroded. Hiring froze, salaries were cut, aircraft orders were cancelled, networks were "rationalized," bonuses and profit sharing suspended and jobs were lost.
It took quite an effort to reverse course to profitability, and the carriers are giving shareholders every expectation that margin improvement is the name of the game moving forward. FedEx's goal is to grow revenue 10% annually, achieve 10%-plus operating margin and grow earnings per share 10% to 15% annually.
The carriers stand to benefit from a number of global trends in addition to a lack of competition in the U.S. Favorable trends include globalization, recovery and growth in the global economies, and the ongoing growth of ecommerce. FedEx and UPS are also well positioned to benefit from emerging economies such as Asia, Brazil, India and others.
Moreover, both UPS and FedEx have invested in hub enhancements such as overhead scanning technologies that quickly and accurately capture rich information including package characteristics, dimensions, tracking, routing, etc. These technologies reduce costs by automating sort and package routing functions, but also serve to generate new revenue by applying accessorial and dimensional charges based on enhanced data capture.
In fact, today's pricing is based predominantly on "package characteristics." Negative characteristics contribute to higher costs of carriage, while positive characteristics help reduce costs. Examples of package characteristics include commercial or residential, destination zone, weight, dimensions, pickup and delivery density and likelihood for claims and many other factors.
The carriers use these package characteristics in order to determine the "cost to serve" a customer's business. Shippers can expect better pricing incentives as package characteristics become more attractive to the carrier. On the other hand, shipping profiles that carry unfavorable package characteristics will lead to higher pricing.
SHIPPER TO PAY HIGHER COSTS
In high tech and many other industries, productivity gains, higher revenues and improved margins are shared with customers in the form of lower pricing. This is not necessarily the case in the parcel industry.
General rate increases (GRI) over the past five consecutive years are the highest on record. When adjusted for accessorial and fuel increases, GRI's have more than tripled annual inflation or CPI.
UPS's announced rate increases for 2011 equate to about a 7.5% hike for most shippers — well above the 4.9% average increase the company was advertising. The average ground rate hike for parcels weighing up to 10 lbs. is 7.44%; a new minimum charge of $5.17 is a 6.8% increase; and the new ground residential charge of $2.45 is an 11.3% increase. The carrier's rates for air and international services will rise 6.9%.
FedEx's 2011 Domestic Express and Export rates will increase by 3.9% (a 5.9% average increase, partially offset by a 2% adjustment to the fuel surcharge table). FedEx at press time had not announced its ground service rate increases, but it was expected to follow UPS's lead.
Perhaps the biggest shocker is that both FedEx and UPS are changing the dimensional weight volumetric divisor: The "dim factor" will change from 194 to 166 for U.S. domestic shipments, and from 166 to 139 for export shipments.
What are shippers to do? You can try to negotiate additional incentives and accessorial reductions, and demand the "grandfathering" of the current dimensional weight factor into a new contract.
But that may prove challenging in the current "duopoly" of FedEx and UPS as the major parcel players. (The U.S. Postal Service does offer some competitive value, but only on certain products at limited weights.)
You can, of course, engage a third-party expert to help rein in freight costs. But that option, too, may be unavailable, as the carriers have recently adopted policies to limit a shipper's ability to engage outside bid expertise.
With few national alternatives and the "price war" days long past, shippers will see continued rationalization of carrier pricing into the foreseeable future. As the GRIs demonstrate, higher prices are here to stay.
UPS and FedEx are making big efforts to lower their operating costs (see "Greener efforts for FedEx and UPS" on page 28), and that is a good thing for shippers. Lower operating costs, productivity gains and strong financial performance are shared with customers through service improvement, modest rate increases, and investment in new services and technologies.
FedEx and UPS will continue to fiercely compete, but not for market share at the expense of profit margin. Rather, the battle will turn on which company can better capitalize and monetize extended supply chain services and become indispensable to its customers.
Expect the carriers to expand environmental sustainability efforts, especially those aimed at decreasing operating costs. And anticipate tighter pricing environments, as margin improvement will outweigh market share gains.
While shippers are likely to see higher pricing into the foreseeable future, they can expect continued improvement in carrier service performance along with new service and technology options in the years ahead.
Rob Martinez (rob@shipware.com) is president/CEO of shipping consultancy Shipware Systems Corp.
GREENER EFFORTS FOR FEDEX AND UPS
Both FedEx and UPS will likely expand their environmental sustainability efforts in the coming year. It takes millions of gallons of fuel to run an airline and worldwide fleet of trucks. The carriers have long tried to minimize costs and maximize environmental stewardship through a variety of initiatives including recycled packaging, aircraft noise reduction, fuel efficiency engineering, and alternative power sources in addition to many other efforts.
For the past decade, UPS's "package flow technologies" — hardware and software that dynamically optimizes pickup and delivery routes to maximize driver time and minimize fuel burn — have resulted in millions of gallons of fuel saved. UPS has developed advanced cooling systems using outside air to cool data centers, resulting in annual savings of $400,000. It also claims to run the most fuel-efficient airline.
While that both carriers take an earnest interest in environmental stewardship, sustainability efforts contribute to profitability. The fuel saved through package flow technologies alone results in annual savings into the tens of millions.
For its part, FedEx has expanded its use of electric vehicles and has invested in solar technologies. Solar panels installed on the roof of the FedEx Express hub in Oakland, CA, provide power to the facility year round.
In fact, both carriers ranked high on Newsweek's Green Rankings 2010, a data-driven environmental assessment of the 500 largest U.S. companies. UPS was #62 and FedEx came in at #105. — RM