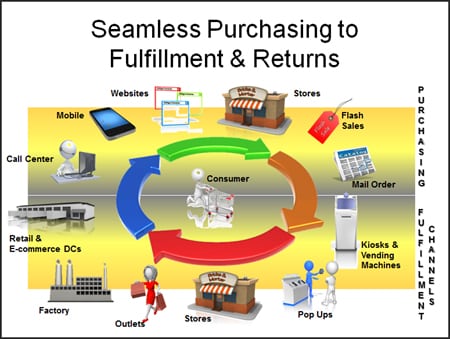 Omnichannel and ecommerce retailers are being pressured into finding new and different ways to increase sales, improve market share and reduce costs in a business environment that is increasingly customer driven.
While this quandary is constantly evolving, ecommerce, multichannel and omnichannel commerce operations must utilize all their assets to improve efficiencies and reduce costs. These assets include, but are not limited to, multiple distribution facilities, retail outlets and kiosks in order to improve their order fulfillment operations and meet the needs of all the channels simultaneously.
In omnichannel operations, all assets, channels and touch points work together to create a seamless customer experience. It's an approach to selling that offers an opportunity to build business enterprise wide while at the same time improving customers' buying experiences.
[ALSO: Understanding Omnichannel Inventory Dynamics]
Here is how some major retailers have harnessed the power of omnichannel and ecommerce in order to improve their results:
Shipping online purchases from store locations to reduce overall shipping costs.
Combining ecommerce and physical store inventory to reduce "out-of-stock" online orders.
Routing online orders to unsold store inventory to reduce inventory costs and discounts on unsold merchandise.
Making returns an opportunity to re-sell items quickly.
Defining Customer Expectations
Today's customers expect a lot from sellers. Extensive product range, selection and availability, next day and/or same day delivery and free shipping are major focal points. In addition to fast fulfillment, customers also want a positive purchasing experience. This need includes easy returns and final delivery options such as ordering online with store pick up and direct home delivery.
[ALSO: Reducing the Cost of Order Fulfillment]
Omnichannel is a studied approach to meet all of these customer expectations. In order to do so successfully, retailers must reevaluate their logistics business model by putting the focus on fulfilling more orders, faster throughput and lower costs. The first step in that process is understanding the trends that define the omnichannel marketplace. Those trends include:
The need for a large and seamless inventory: Customers need and expect retailers to have every product available all of the time. Where is this inventory to be stored? How is it to be tracked? How are orders to be fulfilled?
A quantum increase in one-line orders: One-line orders increase picking costs. This requires new picking and packing methods.
Rapid shipping: To meet customer expectations for fast delivery, sellers have to combine software and hardware technologies to improve picking speed and accuracy, as well as reduce costs.
Flash sales: Flash sales feature very low prices on specific SKUs for a short period of time. They require sale items to be moved forward in order to be picked quickly which then may require fast re-stocking.
Subscriptions: Returning customers account for a large percentage of sales. These customers represent opportunities for cross selling and up selling.
Free shipping and returns: This buying incentive requires sellers to reduce warehouse costs through efficient order picking and packing, as well as to reduce shipping costs.
Combined buying and fulfillment by function, location or business unit: This requires new thinking on how and where to store inventory.
How are sellers meeting these challenges? Many retailers are looking to enhance inventory management and to redesign fulfillment operations to make them more efficient and more cost effective.
Ed Romaine is CMO – VP Marketing of Integrated Systems Design (ISD). https://plus.google.com/+EdRomaine