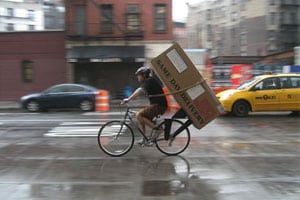 Do you really need that shirt delivered to your office within the hour? Or that tube of lipstick? Evidently quite a few delivery companies believe you do. Players ranging from Amazon to startups like Postmates, Instacart and Uber, and even the U.S. Postal Service, are looking to get a piece of the same-day delivery action.
According to a survey from Boston Consulting Group, only 9% of the 1,500 U.S. consumers surveyed said same-day delivery was a top factor that would improve their online shopping experience. Forrester Research noted a slightly more optimistic 29% of consumers wanting same day delivery. Based on these small numbers, retailers are questioning what exactly is spurring the rapid growth of same-day delivery services. According to a Kurt Salmon analyst, "there's the expectation that there's going to be demand for this service."
There is much skepticism around the success potential of same-day delivery, particularly as memories linger from epic fails Webvan and Kozmo.com. According to Forrester, same-day delivery only works if there are enough customers willing to pay for it. The results of eBay's trial proved this out as its same-day delivery service, eBay Now, folded in 2014, and USPS' own test pilot service, Metro Post, failed in San Francisco because of low participation.
As online retail continues to grow and competition intensifies, delivering items immediately is certainly one way to stand out from the crowd, especially if you're selling things like diapers or medical prescriptions. For retailers contemplating this move, here are a few questions to consider:
Are your customers already asking for same-day delivery?
First and foremost, you've got to know your customer. What do they buy? What is the average spend per customer? Do you already charge for shipping? If so, what shipping services are used the most? Use your customer data to gain insights into their buying habits and preferences.
If you decide to offer same-day delivery, do you utilize a crowdsourced service such as Postmates or Uber, or do you go with a traditional delivery company?
When outsourcing delivery, remember that the vendor is representing your brand all the way to the front door. If employing a crowdsourced service, who exactly is delivering your goods?
Do you offer free delivery or pass the costs on to your customers?
Thinking about offering free delivery? Be sure to review your financial ledger to see if it's even feasible. If you plan to pass the costs on to your customers, good luck. Boston Consulting Group's survey found that 74% cited free shipping as a top factor that would improve their online shopping experience.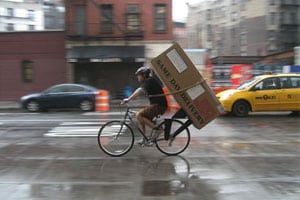 While you contemplate these questions, there are additional delivery alternatives to consider, such as UPS Access Point locations, pickup lockers, parcel shops and in-store pickup. In addition, research suggests that customers are also looking for predictability in their delivery options. By offering self-selected delivery windows for online orders, customers can decide when and where they get their packages, and pay accordingly.
Retailers have many options delivery options to consider, perhaps more than they realize. The options will continue to grow and will require working with delivery partners to find an optimal solution.
John Haber is Founder and CEO of Spend Management Experts